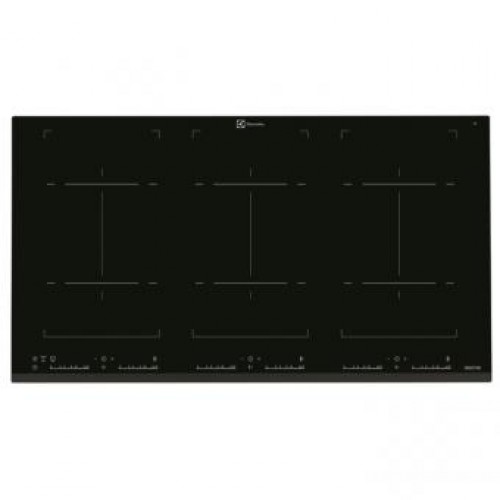 Features:
Always wipe clean – thanks to the induction technology
Thanks to this hob's professional induction technology, the surface never gets hot. So spills don't harden on, and it cleans up with just a quick wipe.
Stylish white light to harmonise with your kitchen's style
Illuminated with bright white LED light, this control panel harmonises with the other modern control panels in your kitchen.
Flexibility for cooking every course at once, plus the side dishes
With six cooking zones, this hob gives you the flexibility you need to cook several dishes at once – plus a few side dishes – just like the professionals.
Completely intuitive control – just touch or slide
This hob's DirectAccess controls make for a completely intuitive way to set the cooking level – just touch and slide straight to the right setting.
Express your individuality with this exclusive colour
The exclusive colour of this hob's glass surface is designed to reflect unique taste and style. Can it help express your individuality?
Professional cooking
Slide pots & pans instead of adjusting heat levels, the dedicated ChefMode enables the bridges to have three pre-defined power levels (e.g. hot, warm, keep warm).
Flexible cooking
Cook large pots and pans with the possibility to combine the 6 cooking zones into 3 large zones.
Quick and accurate
Thanks to intuitive DirectAccess slider controls with one touch control, you can easily and instantly set the exact temperature you need.
White LEDs
For perfect harmony with other applianes of the range.
Product Function:
Responsive Hi-Light Cooking Zones
CleverHeat™ function
EcoTimer™
CountUp Timer
Acoustic signal with switch off option
Automatic safety switch off
Child safety lock function
Key-lock function
Stop and Go function for short interruptions
Automatic fast heating up
Pot detection
Induction zones with power booster function
Illuminated controls
Direct Access: sliding touch control technology
Hob with bevelled frame
Independant hob with controls
Specifications:
91 cm induction hob
6 InfiniteFlex™ cooking zones
ChefMode
Bridge function
DirectAccess slider control
White LED user interface
Precise heat setting with 14 power levels
Booster function
Stop&Go function so you can pause cooking at any time
CleverHeat™ - indicates three levels of residual heat
Electronic timer (1-99 minutes) for easy time management
EcoTimer™ - switches the hob off using its residual heat for the remainder of the cooking process
Child safety lock for peace mind
Color: black glass, with bevelled frame
Power Heating Type 1 2300/3200
Power Heating Type 2 2300/3200
Power Heating Type 3 2300/3200
Power Heating Type 4 2300/3200
Power Heating Type 5 2300/3200
Power Heating Type 6 2300/3200
Location Heating 1 Front left
Location Heating 2 Front middle
Location Heating 3 Front right
Location Heating 4 Rear left
Location Heating 5 Rear middle
Location Heating 6 Rear right
Type Heating 1 Induction
Type Heating 2 Induction
Type Heating 3 Induction
Type Heating 4 Induction
Type Heating 5 Induction
Type Heating 6 Induction
Dim Heating Setting 1 180x210
Dim Heating Setting 2 180x210
Dim Heating Setting 3 180x210
Dim Heating Setting 4 180x210
Dim Heating Setting 5 180x210
Dim Heating Setting 6 180x210
Voltage (v) 220-240
Total connected load: 11.100W
Appliance Dimensions H50 x W910 x D520 mm
Built-in Dimensions W886 x D490 mm
Made in Germany
Two Years Warranty
嵌入式煮食爐屬性
Amp
20A Or Above
Built-In Type
Induction Hob
Cook Zone
4 Burner or above
Origin
Germany
Size
90cm
All installation job are covered by BBE's insurance policy, including Third Party Liability Insurance & Employees' Compensation Insurance (issued by Zurich Insurance Hong Kong).
Standard installation fee
Built-in Induction hob: $380
Waived for products with "Included basic installation"
Delivery
Delivery: $100 per item (Waived for products with "Included delivery fee")
a) Additional charge for Tung Chung, Ma Wan & Discovery Bay: $100 each job
Additional Stair Charge for Delivery (Except village house will charge $50 for each level, All apartment or building will charge $50 for each 10 steps, below 5 steps free of charge)
a) General appliances: $30 each
b) Window type air conditioner: 3/4HP to 1HP $30 each, 1.5HP to 2.5HP $50 each, 3HP or above require discussion separately
c) Split type air conditioner, refrigerator, washing machine: $50 each
d) Built-in oven , Built-in Steam oven,Chimney Type Hood: $50 each
Walking distance more than 100m : Extra fee
Installation Schedule
**Installation fee table above quote is the designated contractor responsible for BBE**

Such as by other agents or other contractors deilvery fee/installation fee will be different. For more information, please contact our inquiry

Hong Kong Island (Tue,Thu,Sat) Kowloon (Mon to Sat) N.T. (Mon to Sat)
Brick-And-Mortar
Throughout the years, we have earned our solid reputation by insistence on providing the best quality products at the best deals. Over thousands of home and kitchen appliances are displayed in BBE's showrooms in Mong Kok, Causeway Bay and Tuen mun.
Best Price
We made nearly 20,000 real online deals in Hong Kong's top one price comparison shopping website "PRICE.COM.HK". We guarantee best price for customers and have been accredited as "5-Star Merchant" in the home and kitchen electrical appliances category.
Safety Purchase
We value our data security the most. Our Website has applied with SSL certificate,which makes it more secure than others。Despite from bank transfer, online customer can choose to pay by credit card via PayPal gateway.
Powerful Online Popularity
BBE has been honored the "Trustworthy Electrical Appliances Online Sales Award" for 3 consecutive years. Organized by "Discuss.com.hk Limited", winners of the award were selected by Hong Kong internet users under "one man, one vote" system.
Buy with confident
Products can enjoy at least 1 year factory warranty and 7 days damage product exchange guarantee. We also provide delivery & installation service, you can check our installation price list for detail.