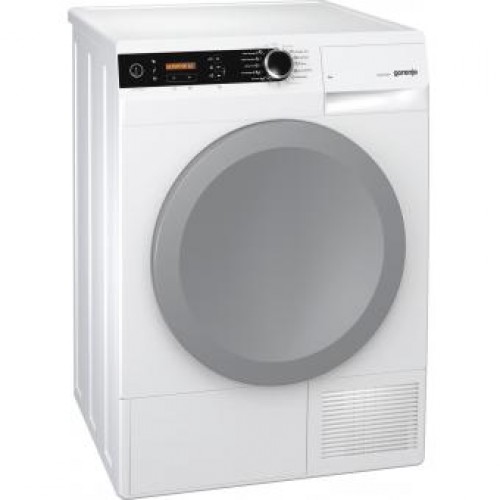 SensorIQ:
Sensor technology for safe operation
Smart sensor technology automatically controls the drying process according to the selected programme, type of laundry, and desired dryness of laundry. Efficient sensor communication prevents any errors and maintains the best possible laundry drying 
environment. The sensors also monitor all other parameters to reduce power consumption.
IonTech:
Tackling the allergies with ions
In SensoCare dryers, air full of negatively charged ions drys the laundry in a way that considerably reduces creasing of your clothes. The ionizer creates an environment free of most allergens, residues of smoke and pollen, and the electrostatic charge accumulated during the drying process. As a result, the clothes have a better smell and they are easier to iron.
AutoDrain:
No more manual emptying of the condensate tank
Condensation dryer with the AutoDrain drain hose can be connected to your drain system to do away with the need for manual emptying of the condensate tank.
HeatPump with TwinAir:
Revolutionary drying efficiency
All heat pump dryers boast high energy efficiency. High end models rank in the A+++ energy class, saving 63% of energy compared to those in the A energy class. Gorenje A+++ class dryer with a capacity of 9 kg is unique in the market. Optimized heat pump in one of the largest drums in the world, with a capacity of 120 litres, can easily deal with major amounts of laundry. This is also made possible by the broader air channels. It also dries more gently than conventional drying systems. The temperature in the dryer is at the ideal 50 °C to prevent from overdrying.
Big volume and up to 9 kg load:
More dry laundry at a time. Gorenje dryers can take up to 9 kg loads; in terms of capacity (120 l), this makes them superior to most other comparable products on the market and ensures optimal drying of larger loads. The door that opens out to a full 180 degrees and conveniently large, 35 cm wide door opening makes it easier to load and empty the drum when drying large items such as blankets, curtains, covers or cushions. Some models have also been fitted with a LED light inside the drum, which allows you better overwiew and easy process of loading and unloading.
FiltrationSupreme:
Largest and most efficient filter on the market
Gorenje has the most efficient filtering system in the world, providing 40% more efficient air filtering than conventional systems. It includes a special 3D filter installed before the condenser unit, a filter on the dryer door, and a filter in the drum. These filters catch even the tiniest bits of dust and lint from the clothes. After the drying cycle, the latter two filters are simply wiped.
TwinAir:
Evenly dried for simple ironing
Soft, evenly dried, less creased laundry that is easy to iron, straight from the dryer. This is made possible by the bi-directional air blowing system which adjusts the air blowing direction to the direction of drum rotation using a special flap on the fan.
SteamTech:
Fewer creases, less ironing
Additional steam treatment at the end of the selected programme will make sure your clothes are much smoother. The drum is filled with steam that penetrates every fibre for softer laundry that hardly requires any ironing.
Programming the start of the drying cycle (NG)
Dried at the right time. Start of the drying process may be programmed up to 24 hours in advance. The clothes will be dried to the previously set level of moisture and ready to be stored in the cupboard or ironing whenever is most convenient for you.
Technical details:
Energy class: A+
Colour: White
Dryer load: Large drum volume - 9 kg
Standard motor
Dryer load: Large drum volume - 9 kg
IonTech technology
TwinAir
Heat pump
Drum volume: 120 l
Drum illumination with LED light
Porthole diameter: 35 cm
Door opening angle: 180 °
Reversible drum action
Direct discharge of condensate AutoDrain
Personal settings for all programmes
Type of display: LCD display
Presetting time delay of start
27 programmes
Programmes: Cotton, Synthetycs, Delicates, Mix, Wool, XL programme
SteamTech
Lower temperature of drying
Anticrease
Audio signal SoftSound
Basket for drying
FiltrationSupreme
Drying phase indicator
Signal for "full water container"
Remaining time on display
Vacuum feet
Humidity sensor
Service diagnostic indicator
Protective thermostat
Automatic switch off when door is open
Child protection (CDP)
Stainless steel inner/outer drum
Noise level drying: 65 dB(A)re 1 pW
Energy consumption kWh/year: 262 kWh
Dimensions of the product (W×H×D): 60 × 85 × 60 cm
Dimensions of packed product (W×H×D): 64 × 91.5 × 68.5 cm
Net weight: 52 kg
Gross weight: 54 kg
Connected load: 1,800 W
Nominal current of fuse: 10 amp
Code: 347375
EAN code: 3838942748875
乾衣機屬性
Drying load
8-11kg
Type
Condenser Dryer
All installation job are covered by BBE's insurance policy, including Third Party Liability Insurance & Employees' Compensation Insurance (issued by Zurich Insurance Hong Kong).
Standard installation fee
Washing machine: $250
Waived for products with "Included basic installation"
Delivery
Delivery: $100 per item (Waived for products with "Included delivery fee")
a) Additional charge for Tung Chung, Ma Wan & Discovery Bay: $100 each job
Additional Stair Charge for Delivery (Except village house will charge $50 for each level, All apartment or building will charge $50 for each 10 steps, below 5 steps free of charge)
a) General appliances: $30 each
b) Window type air conditioner: 3/4HP to 1HP $30 each, 1.5HP to 2.5HP $50 each, 3HP or above require discussion separately
c) Split type air conditioner, refrigerator, washing machine: $50 each
d) Built-in oven , Built-in Steam oven,Chimney Type Hood: $50 each
Installation Schedule
**Installation fee table above quote is the designated contractor responsible for BBE**

Such as by other agents or other contractors deilvery fee/installation fee will be different. For more information, please contact our inquiry

Hong Kong Island (Tue,Thu,Sat) Kowloon (Mon to Sat) N.T. (Mon to Sat)
Brick-And-Mortar
Throughout the years, we have earned our solid reputation by insistence on providing the best quality products at the best deals. Over thousands of home and kitchen appliances are displayed in BBE's showrooms in Mong Kok, Causeway Bay and Tuen mun.
Best Price
We made nearly 20,000 real online deals in Hong Kong's top one price comparison shopping website "PRICE.COM.HK". We guarantee best price for customers and have been accredited as "5-Star Merchant" in the home and kitchen electrical appliances category.
Safety Purchase
We value our data security the most. Our Website has applied with SSL certificate,which makes it more secure than others。Despite from bank transfer, online customer can choose to pay by credit card via PayPal gateway.
Powerful Online Popularity
BBE has been honored the "Trustworthy Electrical Appliances Online Sales Award" for 3 consecutive years. Organized by "Discuss.com.hk Limited", winners of the award were selected by Hong Kong internet users under "one man, one vote" system.
Buy with confident
Products can enjoy at least 1 year factory warranty and 7 days damage product exchange guarantee. We also provide delivery & installation service, you can check our installation price list for detail.