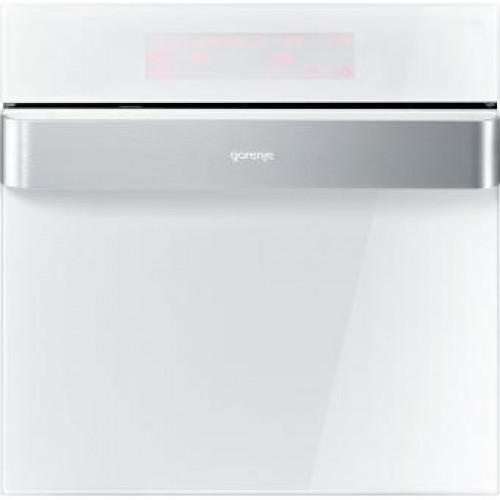 HomeMade shape:
All the qualities of baking in wood-burning ovens
The characteristic rounded shape is one of the most beneficial features of Gorenje ovens. Inspired by traditional wood-burning ovens, it enables hot air to move around freely. Since the food is heated evenly and from all sides, it is always perfectly done: crispy on the outside and juicy on the inside. Combined with the MultiFlow 360˚ ventilation system, it makes baking on all 5 levels possible.
Multi-level baking:
Many dishes in one go
Combination of MultiFlow 360˚and HomeMade shape helps reach the toughest objective: preparing five trays of dishes at once. The good news is: the flavors and smells don't mix. Smart air distribution ensures that the food is evenly baked on every level. Since the oven volume is larger, the overview is excellent as well. Superior models enable arranging the baking trays on five different levels.
SilverMatte:
Ultra resistant, ultra smooth coating
Enamel quality and type are exceptionally important for the oven and its operation. SilverMatte is a highly resistant and strong material that can stand extreme heats, even pyrolytic cleaning at 500 °C. Free from micro pores, it coats oven surfaces and baking trays, making them resistant to the highest temperatures, microwaves and steam. The triple coating of the interior supports heat reflection and provides additional insulation. Therefore, the oven interior always stays sterile and safe.
UltraCool door:
Made to be touched – anytime, all the time
Special triple or even quadruple glazing isolates the oven, making it even safer for children and pets. The heat is kept inside, optimising energy consumption by stopping heat escaping from the oven.
MeatProbe:
Perfectly roasted, every time
By controlling the temperature inside the meat, the MeatProbe manages the entire process and even activates the alarm when the time is right.
FastPreheat:
Charmingly fast, saving time and energy
The oven reaches a temperature of up to 200˚C in just 6 minutes, saving 30 % of the time needed by standard preheating. This comes in handy for recipes that require a preheated oven. A light and sound signal informs when the temperature is right.
Technical details:
Gorenje by Ora-Ïto
Energy class: A
Colour: White
Handle colour: Colour of brushed aluminium
Control panel material: Glass
Usable oven volume: 67 l
Multisystem oven BigSpace - 67 l SuperSize baking area
Surface of the largest baking pan : 1,316 cm²
HomeMADE® modelled on traditional wood-fired bread oven
Electronic control
DirecTOUCH - Electronic control module with pre-set menus and fast pre-heating
Heating types:
Lower and upper heater
Infra heater
Infra heater with ventilation
Ventilation
Lower heater and fan
Lower heater with circular heater and fan
Small infra grill
FastPreheat
AquaClean
StayWarm
GentleClose door hinge
Illumination
FastPreheat
StayWarm
StayWarm
Baking on different levels at the same time
1 deep enameled baking pan
1 shallow enameled baking pan
Wire shelf
Meat probe
Oven guides: Partially extendable telescopic guides on three levels
Stainless grease filter
Thermoelectric fuse
Dynamic oven cooling plus - DC+
Triple glazed oven door with double heat deflector (UltraCoolDoor)
Mechanic door safety bolt
AquaClean
SilverMatte
Smooth oven door surface
Energy consumption: 0.85 kWh (venting), 0.92 kWh (conventional)
Grill power: 2,700 W
Usable oven volume: 67 l
Dimensions of the product (W×H×D): 59.7 × 59.5 × 54.7 cm
Dimensions of packed product (W×H×D): 63.5 × 69.1 × 68 cm
Niche dimensions (WxHxD) (min-max): 56-56.8 × 58.3-60 × 55 cm
Net weight: 34.7 kg
Gross weight: 39 kg
Consumption in standby mode: 1 W
Connected load: 3,300 W
Code: 259559
EAN code: 3838942574245
All installation job are covered by BBE's insurance policy, including Third Party Liability Insurance & Employees' Compensation Insurance (issued by Zurich Insurance Hong Kong).
Standard installation fee
Built-in Oven: $500
Waived for products with "Included basic installation"
Delivery
Delivery: $100 per item (Waived for products with "Included delivery fee")
a) Additional charge for Tung Chung, Ma Wan & Discovery Bay: $100 each job
Additional Stair Charge for Delivery (Except village house will charge $50 for each level, All apartment or building will charge $50 for each 10 steps, below 5 steps free of charge)
a) General appliances: $30 each
b) Window type air conditioner: 3/4HP to 1HP $30 each, 1.5HP to 2.5HP $50 each, 3HP or above require discussion separately
c) Split type air conditioner, refrigerator, washing machine: $50 each
d) Built-in oven , Built-in Steam oven,Chimney Type Hood: $50 each
Installation Schedule
**Installation fee table above quote is the designated contractor responsible for BBE**

Such as by other agents or other contractors deilvery fee/installation fee will be different. For more information, please contact our inquiry

Hong Kong Island (Tue,Thu,Sat) Kowloon (Mon to Sat) N.T. (Mon to Sat)
Brick-And-Mortar
Throughout the years, we have earned our solid reputation by insistence on providing the best quality products at the best deals. Over thousands of home and kitchen appliances are displayed in BBE's showrooms in Mong Kok, Causeway Bay and Tuen mun.
Best Price
We made nearly 20,000 real online deals in Hong Kong's top one price comparison shopping website "PRICE.COM.HK". We guarantee best price for customers and have been accredited as "5-Star Merchant" in the home and kitchen electrical appliances category.
Safety Purchase
We value our data security the most. Our Website has applied with SSL certificate,which makes it more secure than others。Despite from bank transfer, online customer can choose to pay by credit card via PayPal gateway.
Powerful Online Popularity
BBE has been honored the "Trustworthy Electrical Appliances Online Sales Award" for 3 consecutive years. Organized by "Discuss.com.hk Limited", winners of the award were selected by Hong Kong internet users under "one man, one vote" system.
Buy with confident
Products can enjoy at least 1 year factory warranty and 7 days damage product exchange guarantee. We also provide delivery & installation service, you can check our installation price list for detail.