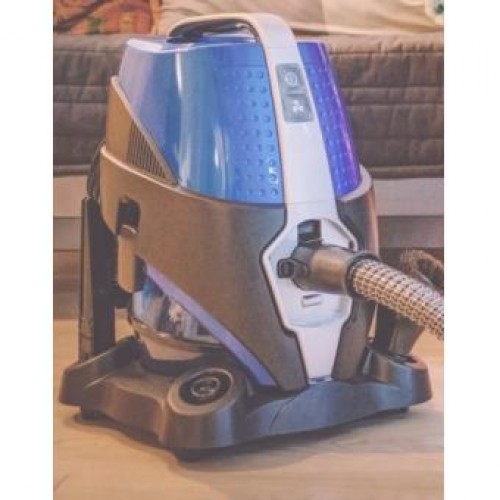 Sirena water vacuum cleaner eliminates the use of bag and uses water, the most effective natural filter, to trap dust and allergen.
Water Purifies
Rain washes away dusts in the air so we feel the air is fresh and clean. This is the best example of water being the most effective  natural filter.
Because dust particles can not escape water, that is why water can capture the dust and the allergens on it.
Sirena water vacuum cleaner harness this natural property of water to clean the surfaces in your home and the air you breath at home.
Sirena keeps your home free from dust and your family members away from allergy symptoms.
Dry vacuum cleaner with disposable or reusable dust bag can not achieve the ideal vacuum cleaning result since a portion of collected dust and allergens is actually being re-distributed back to the space at home when un-mounting the dust bag.
Air pollution is a severe city issue today, particles and dusts in the polluted air arrives at your home via many ways, such as air dynamic and even attaching on the surface of your body and clothes. These particles and dusts carry many allergens. Pollen and dust mites for example.  Dust mites is a macro organism with shocking reproductive rate. It is one of the causes of many skin and respiratory allergies, such as Asthma, Allergic rhinitis, Eczema, Sleep Apnea…
Sirena water vacuum cleaner uses water to trap dusts and allergens in it's water tank. Simply flush the water into toilet and then clean the water tank. Absolutely no dusts and allergens is being re-distributed back to your home.
Sirena is designed to keep the air clean after it cleans your home.
Traditional vacuum cleaner generates enormous amount of heat inside. It heats up the air passing through and the dust inside the unit, providing a perfect situation for bacteria to multiply rapidly. The smell of operating the unit indicates high concentration of bacteria and allergens is being vented out into the air that you breath.
Sirena water vacuum cleaner vents out only fresh clean air because only air itself can escape water through bubbles and water is a natural coolant which eliminating the warm bed for bacteria to multiply rapidly inside the unit.
When designing the Sirena, engineers had a vision of it to provide a 24 hours of fresh and clean environment in your home. Sirena also is a low power consumption water base air freshener.
Sirena comes with a stunning 10 years guarantee.
Italian made motor perfects power and durability.
Sirena comes with a vast selection of heads to help you clean every surface and corner, even the tiny space on your gadgets.
Sirena puts together a powerful water vacuum cleaner and an effective air refresher in a single machine which is designed to operate 24 hours per day at a very low running cost, just about HK$40/month on your electricity bill.
With Sirena water vacuum cleaner,  health indeed is "price-less".
Brick-And-Mortar
Throughout the years, we have earned our solid reputation by insistence on providing the best quality products at the best deals. Over thousands of home and kitchen appliances are displayed in BBE's showrooms in Mong Kok, Causeway Bay and Tuen mun.
Best Price
We made nearly 20,000 real online deals in Hong Kong's top one price comparison shopping website "PRICE.COM.HK". We guarantee best price for customers and have been accredited as "5-Star Merchant" in the home and kitchen electrical appliances category.
Safety Purchase
We value our data security the most. Our Website has applied with SSL certificate,which makes it more secure than others。Despite from bank transfer, online customer can choose to pay by credit card via PayPal gateway.
Powerful Online Popularity
BBE has been honored the "Trustworthy Electrical Appliances Online Sales Award" for 3 consecutive years. Organized by "Discuss.com.hk Limited", winners of the award were selected by Hong Kong internet users under "one man, one vote" system.
Buy with confident
Products can enjoy at least 1 year factory warranty and 7 days damage product exchange guarantee. We also provide delivery & installation service, you can check our installation price list for detail.