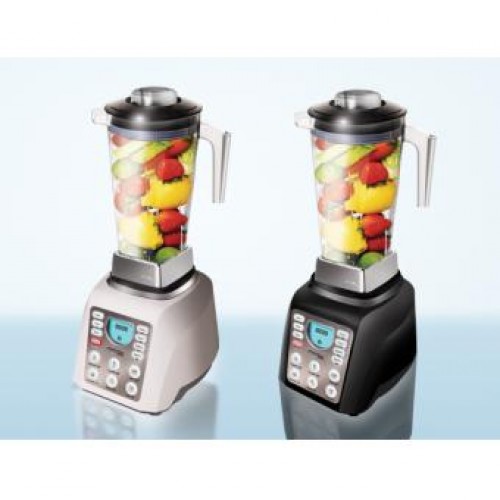 Upgraded S Series Professional High-Speed Food Processor
Super high-speed motor for thorough food processing. The exceptionally high-speed motor ensures the most refined and thorough blending of all kinds of food. Thus nutrients and fibres in fruits and vegetables can be completely consumed.
Uniquely programmed "vegetable" button to produce hi-fibre juice
One-touch preset function keys for vegetable, soy milk, sauce, smoothie, bisque and nut processing. The built-in pre-set programmes such as Vegetable, Soy Milk, Sauce, Smoothie, Bisque & Nuts make it more convenient than ever to create a variety of dishes with a press of the button. No monitoring is necessary.
Fully-automatic operation with time & speed buttons for precise adjustment. The operation is fully automatic. And yet, users have the flexibility to adjust time and speed settings during operation. The LED display lets you monitor the operating status so you are always in full control.
Back-lit buttons for easy programme selection
2-litre extra-large blender jar made of heat-resistant BPA-free Tritan material.
Sleek mirror-finish LCD display
2-litre extra large capacity
Durable Japanese high-carbon steel 6-piece blending blades. The enhanced Japanese 6-piece high-carbon steel (HCS) blending blades are ultra durable and heat-resistant. The whole piece of fruit can be blended into juice even without the need of peeling and de-seeding.
The brand new stainless steel blending jar focuses its centre of gravity at the base. The processor works sturdily during high-speed operation to prevent excessive wearing out to the moving parts
The food processor comes with an anti-tipover jar base made of stainless steel & triple safety devices including displacement shut-off, over-heat protection and current overload safety protection.
Triple safety protection
Extra Rigid Stainless Steel JAR-30
Better Durability & Mega Safe
"Phyto-Rich" Vegetable Function Key is uniquely pre-programmed based on the blending cycle recommended by an expert in naturopathy and nutrition. You can now enjoy truly beneficial juices simply with the press of a button.
One-Touch Pre-set Programme
Blend for 30 sec, then blend at low speed for 10 sec, and turn to high speed for 60 sec, and finally blend at low speed for 10 sec.
ACCESSORIES:
Tamper with Thermometer THM-10
Usage 1: Measuring Temperature
Conveniently measures temperature to meet your cooking and children's food safety needs.
Usage 2: Mixing ingredients
Helps blending thick ingredients. It works perfectly together with the PRO Series.
Grinder & Smoothie Maker GSM-10
Creates a great variety of food with a press of the button. Its extra-large capacity is great for bean-grinding and making smoothies and milkshakes. It works perfectly with the PRO Series.
Sub-model #:PRO-6SSW / PRO-6SSB
Voltage:220 - 240 V / 50-60 Hz
Power:1680 W
Electric Current:8 A
Capacity:2.0 L
Max. Temperature:125 °C
Type of Blade / Blade Material:
HCS (Japan) - 6 Blade
Control Panel:Back-lit Press Button + Digital Display
Safty Features:Triple safety protection
Colour:White / Black
Dimensions:(H) 530 (W) 240 (D) 260 mm
Packing Dimensions:(H) 390 (W) 295 (D) 310 mm
Net Weight:5.52 kg
Gross Weight With Packing:6.8 kg
Certification / Standard:CE/ITS, EMC/ITS, LFGB/SGS
Warranty Term:1 Year
Brick-And-Mortar
Throughout the years, we have earned our solid reputation by insistence on providing the best quality products at the best deals. Over thousands of home and kitchen appliances are displayed in BBE's showrooms in Mong Kok, Causeway Bay and Tuen mun.
Best Price
We made nearly 20,000 real online deals in Hong Kong's top one price comparison shopping website "PRICE.COM.HK". We guarantee best price for customers and have been accredited as "5-Star Merchant" in the home and kitchen electrical appliances category.
Safety Purchase
We value our data security the most. Our Website has applied with SSL certificate,which makes it more secure than others。Despite from bank transfer, online customer can choose to pay by credit card via PayPal gateway.
Powerful Online Popularity
BBE has been honored the "Trustworthy Electrical Appliances Online Sales Award" for 3 consecutive years. Organized by "Discuss.com.hk Limited", winners of the award were selected by Hong Kong internet users under "one man, one vote" system.
Buy with confident
Products can enjoy at least 1 year factory warranty and 7 days damage product exchange guarantee. We also provide delivery & installation service, you can check our installation price list for detail.