SHARP AX-1600R Healsio Water Oven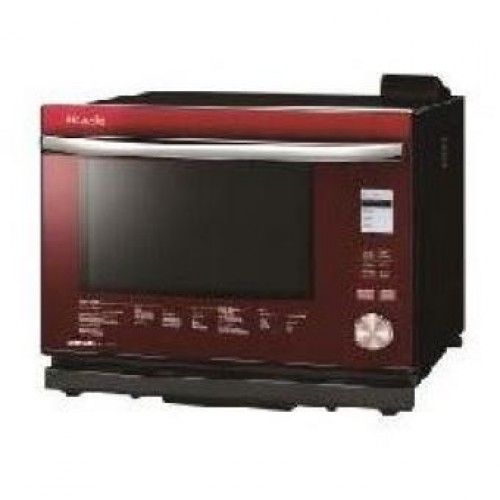 Features:
Superheated Steam at 250˚C
Superheated Steam transfers a hugh amount of heat to the food with a air-tight door mechanism, which retain essential nutrients and delicious taste of food.
Reduces Salt (-four times)*
Excess salt is absorbed, drips away from food surface and abundant moisture is retained.
Reduces Calories (-27% kcal)*
Cook delectable roasted and fried food quickly with less calories.
Retainment of Essential Nutrients (+2 times)*
Minimized loss of natural flovours, moisture, and nutrients in the heating process.
Caring Cooking Mode
Supersteam:100˚C - 250˚C
Pure Steam:90˚C / 100˚C
Convection:100˚C - 250˚C
Proof:40˚C
Microwave:800W
Grill:1450W
Multifunctional water oven offering you and your family different kinds of delicious foods, you will discover how easy and enjoyable cooking can be with Healsio water oven.
Easy Maintenance
- Non sticky coating prevents odor build-up and oil from sticking to it interior. 
- The steam clean function allows dirty build-up to be easily wiped off.
*Testing Laboratory: Japan Food Research Laborato
Warranty : 1-year
Product Specification 
Oven Capacity (Litre): 31
Mix Cook :
-Supersteam:100˚C - 250˚C
-Pure Steam:90˚C / 100˚C
-Convection:100˚C - 250˚C
-Proof:40˚C
-Microwave:800W
-Grill:1450W
Auto Cook Menu 
(No. of Menus) :34
Easy Reheat :Yes
Easy Defrost :Yes
Stainless Steel Interior :Non-sticky coating
Child Lock :Yes
Turntable Diameter (mm) :No
Outside Dimensions (W x H x D) (mm) :553 x 438 x 483
Weight (kg) :~25kg
Color :Red
Warranty :1year
Oven attribute
Amp
13A
Litre
30-39L
Origin
Thailand
Type
Steam Oven