MIELE DG6401 BrilliantWhite Built-in Steam Oven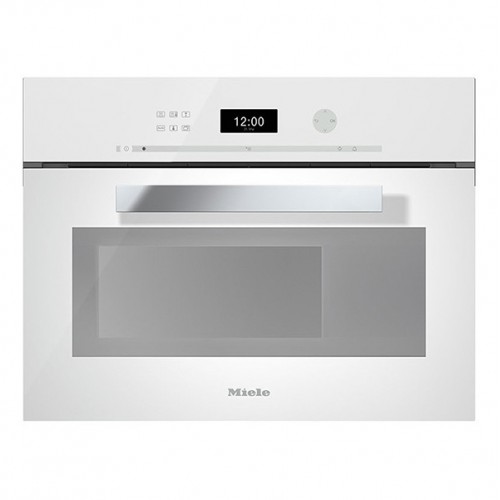 Built-in steam oven
Intuitive and easy to use with plain text display and touch control.
Perfect results thanks to MultiSteam technology
Simultaneous cooking on 3 levels without flavour transfer
Very versatile and efficient thanks to extra large tray size
Success guaranteed - Automatic programmes
Intuitive and simple - DirectSensor
MultiSteam
Perfection just as you like it
Success guaranteed: fast and even distribution of steam in the cabinet and around cooking containers.
Large cooking compartment and large tray size
Using the entire depth: its easy to cook large quantities at once which saves time and energy.
Simple cleaning
No limescale: thanks to external steam generation cleaning is quick and easy.
Lightweight water container
Simple handling: the transparent plastic water container makes refilling nice and easy.
Steam reduction
Safe and convenient: you can open the door and remove food immediatelywithout steam bellowing out.
Recommended temperatures
Decision making made easy: The recommended temperature will appear in the display.
Individual settings
You decide: Language, buzzer tones, display brightness and much more can be individually adjusted.
Cooking on three levels
Saving time and electricity: simultaneous cooking of different types of food without the transfer of flavours.
Wide range of accessories
For all your cooking needs: Miele offers a wide range of accessories for your steam oven.
User programmes
For your favourite dishes: simply set operating mode, temperature and duration and save for repeated use.
Timer function
Always on time: starting time, finishing time and duration of the cooking process are easy to select.
Sous-vide cooking
The ultimate taste sensation: meat, vegetables, fruit or fish that have been cooked under vacuum.
Compartment lighting and clear view door
Visible at a glance: New for Miele steam ovens - cooking compartment lighting and door with viewing screen.
Appliance cooling system and cool front
Maximum protection: all surfaces of and around the appliance remain cool, which offers protection against burns.
Safety functions
Your guardian angel: If you forget to switch off the appliance, the safety switch-off steps in for you.
Electronic temperature control
Automatic monitoring: the temperature selected is constantly monitored and maintained.
Gourmet Versatility:
-Blanching
Perfect retention of quality: Blanching is used to prepare vegetables and fruit for freezing and bottling.
-Vegetables
Nature at its best: Gentle cooking in the steam oven retains flavour and is also very healthy.
-Heating damp flannels
Perfect hospitality: flannels can be steamed and offered to guests at the end of the meal.
-Juicing
Home-made fruit juice and jelly: gentle juice extraction using steam.
-Skinning
Skinning made fast and simple: Tomatoes, nectarines, almonds and much more in just 1-4 minutes in the steam oven.
-Sterilisation
The perfect method for bottling: jars are perfectly sterilised for the preservation of fruit, etc.
-Bottling
No monitoring necessary: particularly convenient for preserving fruit, vegetables, meat and sliced meats in a steam oven.
-Dessert
Sweet temptation: the steam oven can be used to make all sorts of delicious desserts.
-Making yoghurt
Always fresh, always delicious: yoghurt is easy to make in a steam oven in just 5 hours at 40 °C.
-Soups
A popular starter: all sorts of soups can be made in the steam oven for a tasty starter.
-Sous-vide cooking
The ultimate taste sensation: meat, vegetables, fruit or fish that have been cooked under vacuum.
-Heating
Tastes freshly cooked: For dishes that are reheated in approx. five minutes at 80 °C to 100 °C.
-Proving yeast dough
Soft bread and delicious cakes: It also has all-round talent - leave yeast dough to prove at 40 °C.
-Keeping warm function
Delays are no problem: Dishes are automatically kept warm in the steam oven for up to 15 minutes.
-Melting chocolate
No burning or lumps: chocolate melts to perfection at 90 °C.
-Fish/seafood
Good for body and soul: Fish is cooked precisely in the steam oven and retains its flavour.
-Meat
Particularly tender and juicy: most nutrients in the meat are retained when cooked in the steam oven.
-Side dishes
Simply indispensable: Potatoes, rice and pasta are an extremely nutritious part of any meal.
-Cooking eggs
The perfect breakfast egg: Soft, medium or hard in only four to 10 minutes at 100°C.
-Disinfecting baby bottles
Bacteria-free in only 15 minutes: Quick and uncomplicated disinfection of baby bottles at 100 °C.
-Defrost
Gentle on frozen food: Frozen food is gently defrosted under optimum conditions at approx. 60°C.
Design
PureLine: •
Colour: Brilliant white
Display: DirectSensor
Convenience features
Electronic temperature control with steam oven operation 40 to 100°C: 40 - 100
External steam generation: •
Menu cooking without transfer of taste: •
Automatic programmes with individual setting of the cooking result: •
Keep-warm function: •
Operating modes
Defrost: •
Automatic programmes: More than 75
Steam cooking: •
Sous-vide: •
Reheating: •
Special applications: •
User convenience
Individual language selection: •
Direct selection of operating modes: •
Steam cooking on up to 3 levels at the same time: •
Quantity-independent cooking: •
Steam reduction before end of programme: •
Time of day display: •
Date display: •
Minute minder: •
Time buffer in h: 200
Start-stop programming: •
Automatic switch-off: •
Actual temperature display: •
Recommended temperatures: •
Audible signal when desired temperature is reached: •
User programmes: 20
Individual settings: •
Door
CleanGlass door: •
Door with viewing screen: •
Door hinge side: Bottom
Cavity
Cavity volume in l: 38
Stainless steel cavity: •
No. of rack levels: 4
Tray size per rack level: 1/3 GN + 1/2 GN
Removable stainless steel side racks: •
MultiSteam module with LED lighting: •
Cleaning convenience
Stainless steel front with CleanSteel surface: •
External steam generator: •
Floor heater element for condensate reduction: •
Quick-release side racks: •
Automatic descaling: •
Steam technology and water supply
MultiSteam: •
Water reserve for approx. 90 min cooking: •
Fresh water tank: •
Safety
Appliance cooling system with cool front: •
Safety cut-out: •
System lock: •
Vapour cooling system: •
Door contact switch: •
Technical data
Niche width in mm: 560-568
Niche height in mm: 450-452
Niche depth in mm: 550
Appliance width in mm: 595
Appliance height in mm: 456
Appliance depth in mm: 572
Weight in kg: 29,1
Total connected load in kW: 3,6
Frequency in Hz: 50-60
Voltage in V: 230
Fuse rating in A: 16
Number of phases: 1
Standard accessories
Stainless steel side racks: •
No. of perforated stainless steel containers: 3
Wire rack: •
Drip tray: •
Recipe book: •
Connection cable with plug: •
Descaling tablets: •
Oven attribute
Amp
20A Or Above
Function
Steam Cleaning
Glass layers
2 Layers
Litre
30-39L
Origin
Germany
Size
60CM
Type
Pure Steamer
Brick-And-Mortar
Throughout the years, we have earned our solid reputation by insistence on providing the best quality products at the best deals. Over thousands of home and kitchen appliances are displayed in BBE's showrooms in Mong Kok, Causeway Bay and Tuen mun.
Best Price
We made nearly 20,000 real online deals in Hong Kong's top one price comparison shopping website "PRICE.COM.HK". We guarantee best price for customers and have been accredited as "5-Star Merchant" in the home and kitchen electrical appliances category.
Safety Purchase
We value our data security the most. Our Website has applied with SSL certificate,which makes it more secure than others。Despite from bank transfer, online customer can choose to pay by credit card via PayPal gateway.
Powerful Online Popularity
BBE has been honored the "Trustworthy Electrical Appliances Online Sales Award" for 3 consecutive years. Organized by "Discuss.com.hk Limited", winners of the award were selected by Hong Kong internet users under "one man, one vote" system.
Authorized Dealer
We are authorized dealer for all our products. All products can enjoy at least 1 year factory warranty and 7 days damage product exchange guarantee. We also provide delivery & installation service, you can check our installation price list for detail.