GAGGENAU BSP220/BSP221 Built-in Steam Oven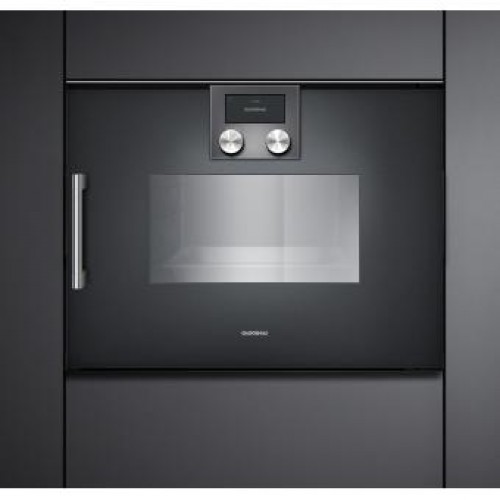 BSP220/BSP221
Low temperature steaming, regenerating, thawing, dough proving and much more - the BSP 220/BSP 221 opens up new dimensions. 100 percent humidity at temperatures of 30°C to 100°C offers all the advantages of pressureless steaming.
Flush installation
Water tank
Steaming without pressure with 100% humidity from 30 °C to 100 °C
TFT touch display
Panel-free appliance with surface control module
Electronic temperature control from 30 °C to 100 °C
Net volume 45 litres
Heating methods
100 % humidity.
Slow steaming.
Dough proofing.
Defrosting.
Regenerating.
Low temperature steaming.
Handling
Rotary knob and TFT touch display operation.
Clear text display in 25 languages.
Information key with use indicators.
Side-opening door opens up to 110° angle.
Features
Removable 1.3 litre water tank.
Water level warning.
Actual temperature display.
Timer functions: cooking time, cooking time end, timer, stopwatch.
Electronic boiling point detection.
48 W halogen light on the side.
Hygienic stainless steel cooking interior.
4 tray levels.
Safety
Child lock.
Safety shut-off.
Cooled housing with temperature protection.
Cleaning
Cleaning aid.
Descaling programme.
Connection
Total connected load 1.9 kW.
Connection cable 1.5 m without plug.
Appliance Dimensions:H455 x W590 x D547 (mm)
Built-in Dimensions:H450 x W560 x D550 (mm)
One Year Warranty

Oven attribute
Amp
13A
Function
Steam Cleaning
Litre
40-49L
Origin
Germany
Size
60CM
Type
Pure Steamer