Electrolux EVY8740AAX 54 Litres Built-in Steam Oven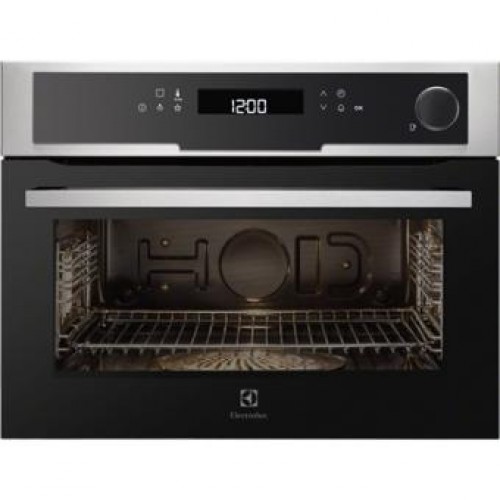 Electrolux   EVY8740AAX   54 Litres Built-in Steam Oven 
Full steam
Ideal for vegetable, rice or any thing you would generally steam.
Water filler tube design
No need to interrupt the cooking process for adding water, prevents from the danger of steam spouting when door opens and the change of humidity and temperature inside the cavity. No water tank design ensures the largest cooking cavity on the market.
InfiSpace 54L
Capacity increased by 25% and tray is 20% bigger than standard tray. Giving you the flexibility to cook more dishes at the same time.
VelvetClosing
Soft close door that closes gently every time. No audible closing sound, always silent.
Front spot illumination
The spot illumination is placed just behind the door so you can check on the progress of your dish at a glance, without opening the oven. The angle of the light means your food is flooded with light, not you.
Steam cleaning
With the steam self-clean function, you can reach professional levels of cleaniness in one touch.
Electronic Time Control
Electronic Temperature Control
Top cavity viewing window
Cooling fan
Digital display with cooking functions and guidance
Easy-insert
Anti-fingerprint stainless steel
MyFavourite
Multiple glass door
High gloss enamel oven lining
Large capacity with 4 shelf positions
Child safety lock/door lock
A-10% Energy Class
Touch control
Made in Poland
Favorite cooking program
Steam cleaning with delayed time
CoolDoor Plus, VelvetClosing ®
Multifunction combines UltraFanPlus cooking with other cooking functions, meaning you can choose the best setting to suit your cooking needs
Compatible appliance: CombiVac sealer drawer EVD29900AX
Usable volume of cavity (L) 54
Cooking Methods Steam
9 automatic programs (weight) 
MyFavourite program 
Steam cleaning with delayed time 
VeluetClosing®
CoolDoor Plus
Oven light automatic at door opening 
47 litres net capacity 
Color: anti-fingerprint stainless steel 
Energy rating: A-10%
Current(A) 13
Electrical Connection (W) 1400
Appliance Dimensions H455 x W594 x D567 mm
Built-in Dimensions H448 x W560 x D550 mm
Made in Poland
One Year Warranty
Oven attribute
Amp
13A
Function
Steam Cleaning
Glass layers
3 Layers
Litre
50-59L
Origin
Poland
Size
60CM