Gorenje BO637E30X 60cm Built-in Oven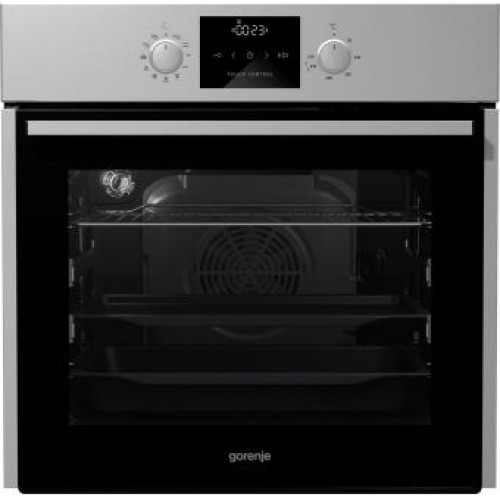 HomeMade shape:
All the qualities of baking in wood-burning ovens
The characteristic rounded shape is one of the most beneficial features of Gorenje ovens. Inspired by traditional wood-burning ovens, it enables hot air to move around freely. Since the food is heated evenly and from all sides, it is always perfectly done: crispy on the outside and juicy on the inside. In superior models of ovens this shape is combined with the MultiFlow 360˚ ventilation system, which enables baking on all 5 levels.
Multi-level baking:
Many dishes in one go
Combination of MultiFlow 360˚and HomeMade shape in some models of Gorenje ovens helps reach the toughest objective: preparing up to five trays of dishes at once. The good news is: the flavors and smells don't mix. Smart air distribution ensures that the food is evenly baked on every level. Since the oven volume is larger, the overview is excellent as well.
SilverMatte:
Ultra resistant, ultra smooth coating
Enamel quality and type are exceptionally important for the oven and its operation. SilverMatte is a highly resistant and strong material that can stand extreme heats, even pyrolytic cleaning at 500 °C. Free from micro pores, it coats oven surfaces and baking trays, making them resistant to the highest temperatures, microwaves and steam. The triple coating of the interior supports heat reflection and provides additional insulation. Therefore, the oven interior always stays sterile and safe.
AquaClean:
Simple, casual cleaning
Due to completely new enamel in all lines of new Gorenje ovens, AquaClean function has been significantly improved. AquaClean offers great assistance in cleaning of the oven cavity. All it takes is to pour half a litre of water into a baking tray and turn AquaClean on after each baking. In just 30 minutes, the results are visible on the entire surface and the baking trays. Stains and grease are softened and can be wiped away more easily and the oven stays spotless.
GentleClose:
Super easy and super silent
Only a soft touch is needed to close the oven door smoothly, without any noise.
PerfectGrill:
A double heater for evenly crispy food
The best baking results are achieved with a combination of larger and smaller heaters, where the latter is positioned inside the larger one. The smart positioning of the heaters allows optimal heat distribution and provides the ultimate baking results every time, so food is crispy on the outside and soft on the inside. A variable heater combination can use either the inner or outer heater, or both at once. In advanced models, the heater is movable for easier cleaning and maintenance.
TouchFree coating
Shiny and fingerprint-free finish
All stainless steel surfaces are coated with a special TouchFree film that prevents fingerprints markings, leaving the surface always shiny and making cleaning much easier.
Technical details:
Essential Line
Energy class: A
Colour: Colour of brushed stainless steel
Handle colour: Colour of brushed stainless steel
Control panel material: Stainless steel
Usable oven volume: 67 l
Multisystem oven BigSpace - 67 l SuperSize baking area
Surface of the largest baking pan : 1,316 cm²
HomeMADE® modelled on traditional wood-fired bread oven
PerfectGrill
Mechanic temperature control
Knob shape: Sinkable knobs
IconLed
Heating types:
Lower and upper heater
Infra heater
Ventilation
Infra heater with ventilation
Lower heater and fan
Lower heater with circular heater and fan
Small infra grill
Defrost
FastPreheat
AquaClean
StayWarm
GentleClose door hinge
Illumination
Baking on different levels at the same time
1 deep enameled baking pan
1 shallow enameled baking pan
Wire shelf
Oven guides: Partially extendable telescopic guides on two levels
Thermoelectric fuse
Dynamic oven cooling plus - DC+
Double glazed oven door with one heat deflector (CompactDoor)
Catalytic fan cover
SilverMatte
Smooth oven door surface
TouchFree Inox
Energy consumption: 0.85 kWh (venting), 0.92 kWh (conventional)
Grill power: 2,700 W
Usable oven volume: 67 l
Dimensions of the product (W×H×D): 59.7 × 59.5 × 54.7 cm
Dimensions of packed product (W×H×D): 63.5 × 69.1 × 68 cm
Niche dimensions (WxHxD) (min-max): 56-56.8 × 58.3-60 × 55 cm
Net weight: 30.4 kg
Gross weight: 34.7 kg
Consumption in standby mode: 1 W
Connected load: 3,300 W
Code: 471572
EAN code: 3838942010989
Oven attribute
Amp
15A
Function
Steam Cleaning
Glass layers
2 Layers
Litre
60-69L
Origin
Europe
Size
60CM
Type
Pure Oven