Fisher & Paykel OB60SL11DEPX1 Built-in Electric Oven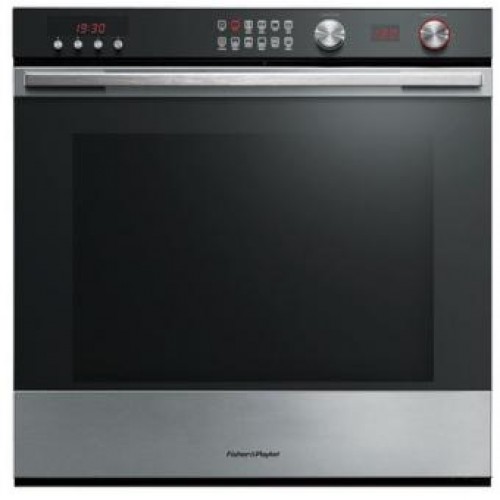 60cm 11 Function Pyrolytic Built-in Oven
Built for performance, with ActiveVent™ technology and an intuitive control system that allows for precise cooking mode selection across 11 oven functions. The generous 77 litre internal capacity fits 30 percent more than traditional European ovens and this model offers a pyrolytic self-cleaning function. Finished in black reflective glass with polished metal trim the sleek lines and design detail match the rest of the Fisher & Paykel kitchen appliance family.
598H x 597W x 577D
FEATURES & BENEFITS:
Sized to suit:
Sized to fit the food you cook, Fisher & Paykel has one of the largest Built-in Ovens on the market, providing 90L total and 77L of usable capacity. The maximised height means you are able to fit a large casserole dish, the family roast and even a pie as well— true multi-shelf cooking. Two shelves can be fully utilised at the same time without hot spots or uneven browning. A 5.5kg turkey or other cut of meat can be deliciously cooked using the optional rotisserie kit. 
Safety Features:
Our 60cm Built-in Ovens feature cool-touch doors* that due to a new, innovative cooling system only have three panes of glass, making them lighter and less bulky. Sliding hot dishes out is made safe with full extension shelves (nine and 11 Function models). These are designed to integrate with the oven for quick and easy removal and adjustment. *Excludes OB60SL11DCPX1 
Pre-Set Oven Functions:
The range features models with 11, nine or seven oven functions. The 11 and nine function models have pre-set temperatures that deliver just what you need to cook each dish to perfection, at the touch of a dial. 
Easy Clean:
Our pyrolytic self-cleaning models break down food residues at a very high temperature, leaving light ash that's easily removed, while our catalytic models break down oil and fat splashes during normal cooking. 
Accessories:
The 5.5kg capacity Rotisserie Kit option (nine and 11 Function models) ensures delicious roasts are browned evenly as the surface is continuously basted. Crafted from heavy gauge enamelled steel, the three-piece dish system includes a deep roasting dish, splatter tray and grill rack (model dependent). 
Designed to Match:
All of the three models in our Built-in Oven range are finished in black reflective glass and stainless steel that blends elegant, minimalist aesthetic with design for durability. The finishes and handles match the rest of Fisher & Paykel's coordinated kitchen family, from Cooktops to ActiveSmart™ Fridges, CoolDrawers™ and DishDrawer™ Dishwashers. 
FUNCTIONS:
Bake
Classic Bake
Fan Bake
Fan Forced
Fan Grill
Grill
Pasty Bake
Roast
Vent Bake
Warm
Oven attribute
Amp
13A
Glass layers
2 Layers
Litre
70-79L
Origin
Italy
Size
60CM
Type
Pure Oven