Teka HL870 Built-in Electric Oven
HL870
 
 
 
Teka Hydroclean® cleaning system
 
Touch control panel with LCD display
 
10 cooking functions
 
Temperature eco cooking function
 
Pop-up control knobs
 
Express preheating automatic function
 
Personal cooker assistant (10 programmed recipes)
 
Automatic temperature and time proposal as per selected function
 
Double grill
 
Lateral lighting
 
2 telescopic tray guides, one of them with full extension
 
Forced ventilation with Mix Chamber Systems (MCS)
 
Children safety block
 
Automatic door disconnection
 
Triple glazed door
 
Full glass inner door
 
Drop-down grill
 
Deep tray and baking tray with Teka Hydroclean® enamel / reinforced grid
 
Teka Hydroclean® cavity
 
 
 
 
 
 
 
Capacity
59/65L
Power Supply
220-240V
Frequency
50Hz
Max. Nominal Power
3223W
Bottom Heat
1,150W
Grill / Maximum Grill
1100/2600W
Traditional
2250W
 
 
Overall Measurements
595H x 595W x 562D (mm)
Inner Measurements
313H x 455W x 396D (mm)
 
 
One Year Warranty
 
 
 

 

- Specifications are subject to change without prior notice. 

- All photos are for reference only. 
 
- More up-to-date products are available in Teka International website for local ordering. Please contact us for enquiry.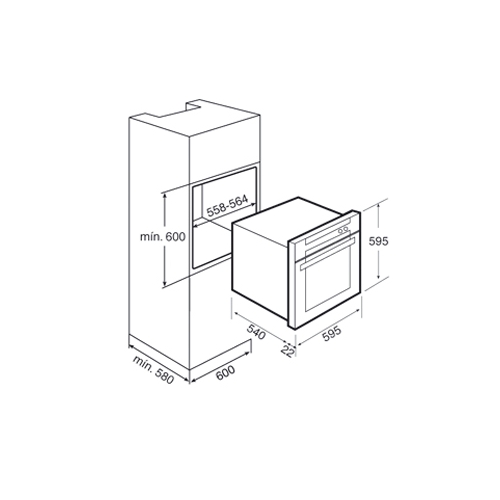 Oven attribute
Amp
20A Or Above
Function
Steam Cleaning
Glass layers
3 Layers
Litre
60-69L
Origin
Spain
Size
60CM
Type
Pure Oven