Electrolux EOY5851FAX Built-in Oven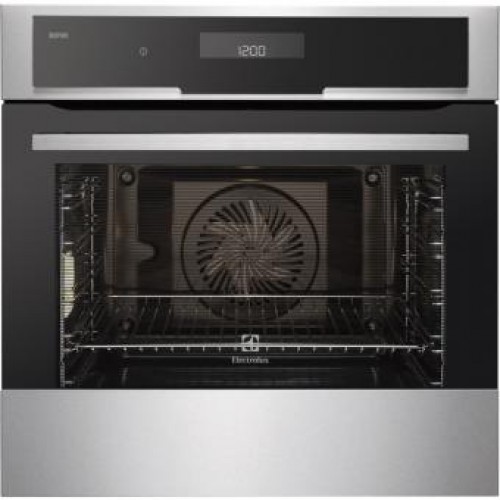 The intelligent oven that uses its advanced sensor system and database of best cooking experiences to choose the correct temperature, time and oven function for andy type of meal.
Automatically selects the right setting for sash dish
The Electrolux Inspiro oven can select all the right settings for your dish.  Just use the intuitive user interface to tell it what you are cooking.
Let the oven choose the ideal settings for your dish
Tell this oven what you are cooking, and it takes care of the rest.  Use the touch-keys to navigate the text & icon menu, and it will automatically select the settings.
Use every inch of space inside
Thanks to the UltraFanPlus heating system with extra-large fan and air-guide design, your dish will cook completely evenly whenever you place it in the oven.
Self cleaning
The Pyrolytic Self-Clean oven hygienically turns food residues into ash - simply wiped away with a damp cloth.
● 5 auto cooking modes
● 19cooking functions
● InfiSpace - extra large cavity 74L and even cooking on 5 levels mean that you can cook more at the same time
● UltraFanPlus
● White LED display with touch controls
● "Cool door symbol" on door
● FoodProbe
● Pyro Self-Clean function
● MyFavourite program
● VelvetClosing
● CoolDoor Xtra
● 1 wire shelf, 1 grill / roasting pan, 1 trivet & 1 set of telescopic runners supplied in your oven
● Color: anti-fingerprint stainless steel
● Energy rating: A+
● Made in Germany
Built-in(mm)
590(H) x 560(W) x 550(D)
Dimensions(mm)
594(H) x 594(W) x 567(D)