Gorenje BOC6322ORAX Built-in Compact Steam Combination Oven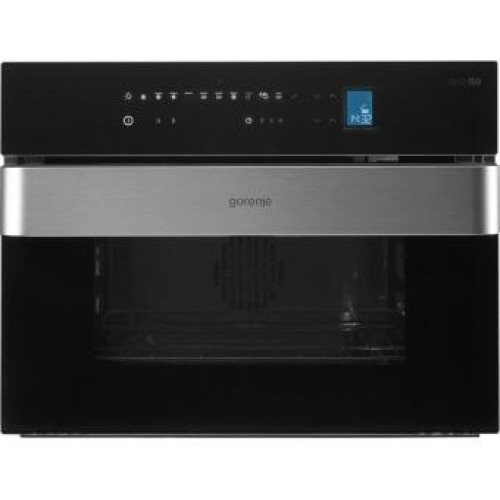 Multi-level baking:
Many dishes in one go
Combination of MultiFlow 360˚and HomeMade shape helps reach the toughest objective: preparing five trays of dishes at once. The good news is: the flavors and smells don't mix. Smart air distribution ensures that the food is evenly baked on every level. Since the oven volume is larger, the overview is excellent as well. Superior models enable arranging the baking trays on five different levels.
Technical details:
Gorenje by Ora-Ïto
Energy class: A
Colour: Stainless steel
Handle colour: Metallic grey
Control panel material: Glass
Compact steam oven SuperSize baking area
Electronic control
Heating types:
Ventilation
Double illumination
Baking on different levels at the same time
Wire shelf
Oven guides: Drawn guides
Water container: 1.4 l
Thermoelectric fuse
Dynamic oven cooling - DC
Triple glazed oven door with one heat deflector (CoolDoor)
Electronic door safety bolt
Grill power: 1,500 W
Dimensions of the product (W×H×D): 59.5 × 45.5 × 56 cm
Dimensions of packed product (W×H×D): 67 × 67 × 58.5 cm
Niche dimensions (WxHxD) (min-max): 56 × 45-45.8 × 56 cm
Net weight: 34.7 kg
Gross weight: 39.7 kg
Consumption in standby mode: 0.5 W
Connected load: 3,200 W
Nominal current of fuse: 20 amp
Code: 423166
EAN code: 3838942926563
Oven attribute
Amp
20A Or Above
Function
Steam Cleaning
Glass layers
3 Layers
Litre
40-49L
Origin
Europe
Size
60CM
Type
Steam Oven