MIELE G6470SCVi HK Fully Integrated Dishwashers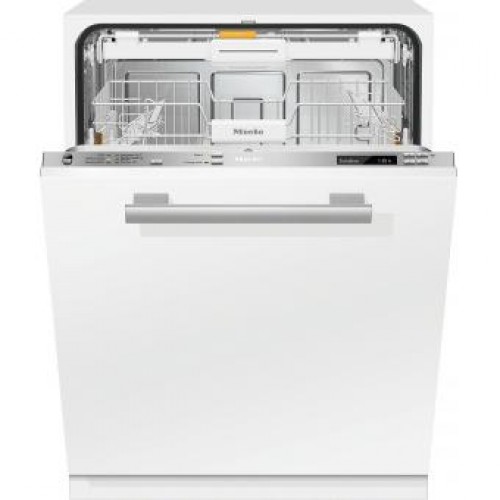 Fully integrated dishwashers
with delay start and 3D cutlery tray for maximum convenience.
Versatility for all loads – 3D cutlery tray
Long-lasting sparkle for your glasses – Perfect GlassCare
All safely loaded where needed – MaxiComfort basket design
Wash with the cheapest tariff – FlexiTimer with EcoStart
Everything completely dry – AutoOpen drying
Patented1 3D cutlery tray
Exceptional versatility and the best cutlery care
Even for bulky utensils: The height, width and depth of the patented cutlery tray can be adjusted.
Patented3 AutoOpen drying
Everything perfectly dry: The dishwasher door opens automatically at the end of the washing programme.
Freshwater dishwashers - water consump. from 6.5 l
Minimum consumption: The Automatic programme ensures best cleaning results with minimum water consumption.
Patented1 3D cutlery tray
Even for bulky utensils: The height, width and depth of the patented cutlery tray can be adjusted.
Miele basket design
Unique: The redesigned lower basket and the innovative upper basket offer a wide range of functions.
MaxiComfort basket design
Maximum flexibility for all types of crockery for perfect cleaning and drying results.
MultiComfort area in the lower basket
For all types of crockery: Even large pots/pans or bulky items fit easily in the versatile lower basket.
Ergonomic basket handles
Simplify your daily routine: The basket handles make loading and unloading easier.
Height-adjustable glassware rail for upper basket
Lots of glasses: The height-adjustable rail creates extra space in the top basket.
Hinged bottle holder
Absolutely secure: Even items such as vases can be thoroughly cleaned using the bottle holder.
Ideal for glassware
Optimal hold: A height-adjustable glass holder and support rail for glasses5 in the lower basket give protection.
ComfortClose
Practical: The door is extremely easy to open and close, and stays open in any position.
Patented in-door salt container
Extremely convenient: Salt can be replenished in a simple and convenient way by pouring it into the container with the door half-open, without having to stoop.
Delay start with integrated countdown indicator
Smart: The countdown indicator. Use delay start to set your dishwasher to start up to 24 h in advance.
Perfect GlassCare
Gently and with care: This technology ensures that your glasses are cleaned gently.
SensorDry
No more residue: The programme ensures that crockery is dry even in adverse conditions.
FlexiTimer with EcoStart
Clever: With EcoStart the dishwasher always selects the cheapest electricity tariff for you automatically.
Reduced load
Full load not necessary: Automatic load recognition adjusts water and electricity consumption.
Hot water connection
Up to 50% electricity savings: Every Miele dishwasher can be connected to a hot water connection up to 60 ̊C.
EcoFeedback
Wash aware: Select a wash programme and the estimated water and electricity consumption appear in the display.
Washing Programs & Options
-SolarSave
Second to none: Minimum electricity consumption with solar heat system, heat pump or gas-oil heating.
-ECO
Extremely economical: The water and energy saving programme is perfect for mixed loads.
-Automatic
For crockery which is not sensitive to heat: For example mixed, everyday crockery with normal food deposits.
-Normal 55°C
Quick and effective: this programme for every day loads cleans normally soiled crockery thoroughly.
-Intensive 75°C
Maximum cleaning performance: Pots, pans, etc. are cleaned residue-free.
-Sensor wash gentle / Gentle
Gentle and with care: The programme cleans heat-sensitive crockery that is slightly dirty.
-Rapid 40°C
Short programme duration: Cleans mixed loads with fresh food deposits in only half an hour.
-Maintenance wash
Whenever needed: This programme cleans the dishwasher thoroughly - guaranteed.
-Short
Sometimes things have to be done fast: With the Short programme option you can reduce the cycle time.
-Energy save
Choose consciously: This option makes an additional reduction in electricity consumption possible.
Type of appliance
Fully integrated dishwasher: •
60 cm dishwasher: •
Design
Colour: Stainless steel
Fascia panel version: Fully integrated fascia
Control type: Programme selector
Display: 1-line text display
Display colour: White
Convenience
Door closing aid: ComfortClose
Countdown indicator: •
In-door salt container: •
Delay start up to 24 hours: •
In-operation indication: optical and acoustic
Choice of display language: •
Efficiency and sustainability
Water consumption in the ECO programme in l: 9,7
Water consumption in Automatic/Sensor wash programme in l: 6,5
Consumption value with hot water connection in ECO prog in kWh: 0,49
FlexiTimer with EcoStart: •
EcoFeedback: •
Hot water connection: •
Half load: •
Alternating spray arm technology: •
Gentle treatment of crockery and glassware
AutoOpen drying: •
SensorDry: •
Recirculation turbothermic drying: •
Perfect GlassCare: •
DetergentAgent: •
Dishwashing programmes
ECO: •
Automatic (Sensor wash): •
Intensive 75°C: •
Normal 55°C: •
Gentle: •
Quick wash 40 C: •
SolarSave: •
Extra quiet 40 dB (A): •
Maintenance programme: •
Dishwashing options
Short: •
Energy save: •
Basket design
Cutlery loading: 3D cutlery tray
Basket design: MaxiComfort
Technology and quality
Sensor technology: AutoSensor
Electronic professional pump for variable spray pressure: •
Safety
Waterproof system: •
Check filter indication: •
Technical data
Niche width in mm: 600-600
Niche height in mm: 805-870
Niche depth in mm: 570
Appliance width in mm: 598
Appliance height in mm: 805
Appliance depth in mm: 570
Appliance depth with door open in mm: 116,5
Net weight in kg: 45,0
Total connected load in kW: 2,1
Voltage in V: 230
Fuse rating in A: 10
Standard electrical frequency: 50
Number of phases: 1
Length of water inlet hose in m: 1,50
Length of water drain hose in m: 1,50
Length of electrical cable in m: 1,80
Brick-And-Mortar
Throughout the years, we have earned our solid reputation by insistence on providing the best quality products at the best deals. Over thousands of home and kitchen appliances are displayed in BBE's showrooms in Mong Kok, Causeway Bay and Tuen mun.
Best Price
We made nearly 20,000 real online deals in Hong Kong's top one price comparison shopping website "PRICE.COM.HK". We guarantee best price for customers and have been accredited as "5-Star Merchant" in the home and kitchen electrical appliances category.
Safety Purchase
We value our data security the most. Our Website has applied with SSL certificate,which makes it more secure than others。Despite from bank transfer, online customer can choose to pay by credit card via PayPal gateway.
Powerful Online Popularity
BBE has been honored the "Trustworthy Electrical Appliances Online Sales Award" for 3 consecutive years. Organized by "Discuss.com.hk Limited", winners of the award were selected by Hong Kong internet users under "one man, one vote" system.
Authorized Dealer
We are authorized dealer for all our products. All products can enjoy at least 1 year factory warranty and 7 days damage product exchange guarantee. We also provide delivery & installation service, you can check our installation price list for detail.