Gorenje GI64224AX 60cm Built-in Semi-integrated Dishwasher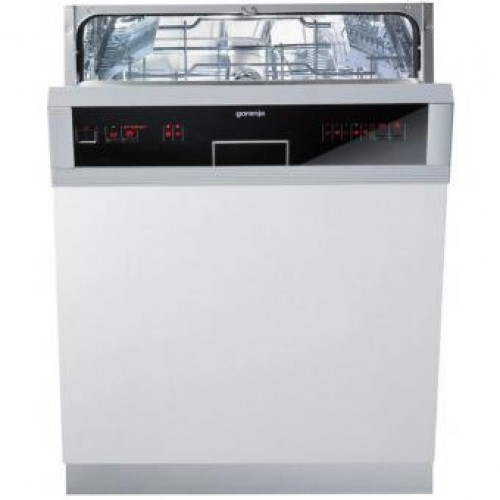 Self-cleaning filter:
The automatic filter cleaning system washes out the food residues to prevent the filter from clogging, and thereby also any problems or errors.
MultiClack system:
Adjusted to every single pot
Upper basket height can be set to several levels. This is a simple solution for washing larger pots, pans, plates, or glasses.
AquaStop:
In case of water spillage, the AquaStop safety system will automatically shut off the water supply to the hose and the machine, and the pump will pump out the remaining water from the dishwasher tub into the drain hose. Thus, the dishwasher may be left to operate at night or while nobody is at home, without any fear from flooding.
Long utensils:
No dropping through the baskets
Advanced models feature a special support in the upper basket to accommodate long utensils.
3 in 1:
Simply by activating the "3 in 1" function, your dishwasher will automatically adjust the washing cycle to tablet 3in1 and omit using the rinse aid, making this function highly convenient. If you are using powder or gel detergent, the rinse aid is released to allow optimum dishwashing results and perfect shine.
Technical details:
Energy class: A+
Max. temperature of inflow water: 60 °C
Selected programme indicator
Washing temperature(s): 70, 65, 55, 45 °C
5 programmes: Normal; BIO programme; Soaking; Programme for glass; Super programme 70 / 65 / 55 / 45°C
Reference programme: 3
12 place settings
Function 3 in 1
Selected programme indicator
Visual indicator for wash finish on control panel
Voice signal for the end of washing cycle
Variable start delay up to 3/6/9 hours
Variable top basket
Upper basket system: MultiClack
Long cooking utensils
Foldable bottom plate baskets
Number of sprinkle hands: 2
Selfcleaning filter
Total AquaStop
Service diagnostics
Stainless steel tub
Water consumption: 12 l
Energy consumption - normal program: 1.01 kWh
Estimated annual water consumption : 3,360 l
Level of noise (max.): 49 dB(A)re 1 pW
Height setting: 70 mm
Dimensions of the product (W×H×D): 59.8 × 81.8 × 57 cm
Dimensions of packed product (W×H×D): 65 × 89 × 67 cm
Niche dimensions (WxHxD): 60 × 82 × 57.5 cm
Net weight: 42 kg
Gross weight: 44 kg
Connected load: 1,800 W
Nominal current of fuse: 10 amp
Code: 275583
EAN code: 3838942607042
洗碗碟機屬性
Size
60cm
Sort
Built-In
Volume
12 Place