Bosch SCE64M55EU 60cm Built-in Dishwasher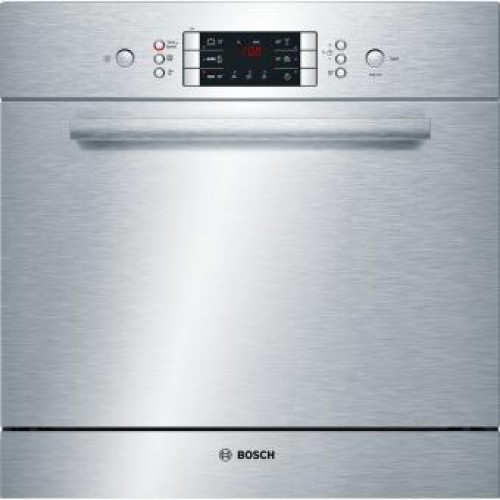 Energy efficiency class A+: rinses efficiently.
8.7 litres: low water consumption - just 8.7 l of water produce optimum results.
SuperSilence: exceptionally quiet operation at only 45 dB.
60 cm modular height: for more flexibility in choosing the built-in height.
HygienePlus option: rinsing with higher temperatures for highest hygienic performance.
SPECIFICATIONS
Color / Material panel: Stainless steel
Energy efficiency class - NEW (2010/30/EC): A+
Drying performance: A
Number of place settings: 8
Type of control: electronical
Automatic programme: Yes
List of programmes: Auto, Delicate, Economy, Intensive, Pre Rinse, Quick Wash
Child saftety devices: Yes
Number of programmes: 6
Height of the product (mm): 595 mm
Width of the product (mm): 595 mm
Depth of the product: 500 mm
Depth with open door 90 degree (mm): 995 mm
Drying system: Heat exchanger
Connection Rating (W): 2400 W
Length electrical supply cord (cm): 170.0 cm
Number of Options: 4
Frequency (Hz): 60; 50 Hz
Program Status Light: No
Drying progress indicator: Time remaining indicator front, water inlet
Rinse aid light indicator: Yes
Length inlet hose (cm): 165 cm
Length outlet hose (cm): 226 cm
Noise level (dB(A) re 1 pW): 45 dB
Start delay time max (h): 24 h
Voltage (V): 220-240 V
Safety device: Button suspension, triple water protection 24h
Gross weight (kg): 29.000 kg
Water consumption (l): 8.70 l
Water protection system description: Triple water protection 24h
Maximum temperature for water intake (°C): 60 °C
洗碗碟機屬性
Origin
Europe
Size
60cm
Sort
Built-In
Volume
8 Place