MIELE ESW6214 CleanSteel 14 cm Gourmet Warming Drawer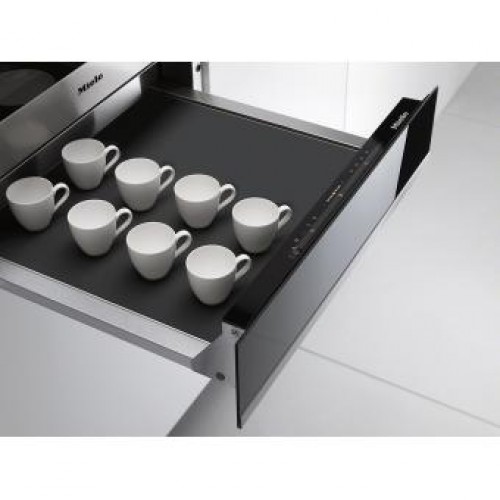 14 cm Gourmet warming drawer
with the low temperature cooking function - much more than a warming drawer.
Ultimate enjoyment with Low temperature cooking
Versatile use thanks to four operating modes
Convenient and easy - Touch operation
Easiest handling - Push2Open
Safe is safe - Timer function with automatic switch off
Low-temperature cooking
The perfect programme for all types of meat
For perfect results: With low temperatures, meat recipes automatically become specialities.
Touch controls
Simply convenient: programme selection is via a flush touch panel which is easy to clean.
Timer
Heat guaranteed: All built-in food warming drawers feature a 4-hour timer which switches off automatically.
Fully telescopic runners
Simply practical: the drawer can be pulled out completely for easy loading and unloading.
Four operating modes
Multi-purpose use: Warming cups and plates, keeping food warm or cooking at low temperatures.
Fully telescopic runners
Simply practical: the drawer can be pulled out completely for easy loading and unloading.
Capacity
Lots of guests, a lot of crockery: depending on the model, crockery for up to 12 persons can be pre-heated.
Push2open mechanism
Easy to open: slight pressure is sufficient to activate this function.
Perfect serving temperature
Individual and precise control: depending on requirements and taste, the temperature can be precisely controlled.
Non-slip liner
All items are safely positioned: crockery does not slide around when the drawer is opened or closed.
Connection with coffee machine
Always on time: by programming the coffee machine, the cups are pre-warmed.
CleanSteel
Cleaning made easy: the high-quality surface finish makes cleaning the appliances extremely easy.
Gourmet Versatility:
-Defrost
Gentle defrosting guaranteed - without loss of quality.
-Melting chocolate
Something everyone has experienced, chocolate has to be melted to the exact temperature for cakes.
-Dissolving gelatin
Panna cotta is prepared to perfection with gelatin.
-Proving yeast dough
Yeast dough is particularly suited for cakes, biscuits and pizza. Preparation is easier than you think.
-Allowing rice to swell
Perfect in all variations, particularly puddings.
-Making yoghurt
For various applications: when baking or as a dessert.
-Veal and beef
Low temperature cooking brings out the strong aromatic flavours of these meats and guarantees perfect cooking.
-Lamb and poultry
Low temperature cooking guarantees gentle cooking of these meats and achieves succulent and tender results.
-Fish
Fish is good for body and soul.
-Desserts
Sweet temptations for dessert: for example for meringue
-Side dishes
Side dishes are not often the centre of attention and yet choosing the right one can be crucial to the whole menu.
-Breakfast cereals
An ideal start to the day with a good breakfast.
Design
PureLine: •
ContourLine: •
Colour: Stainless steel/Clean Steel
Stainless steel trim: Narrow
Glass fascia panel with sensor controls: •
Control panel with symbols: •
Handleless: •
Convenience features
Prewarming of crockery: •
Keeping food warm for menu cooking: •
Perfect cooking results at low temperatures: •
Precise electronic temperature control from 40 to 85°C: •
Operating modes
Warm cups: •
Warm plates: •
Keeping food warm: •
Low temperature cooking: •
User convenience
Fully telescopic runners for easy loading and unloading: •
Push-to-Open mechanism: •
Stop programming/Timer function: •
Capacity: 6 place settings
Connection with coffee machine possible: •
Cleaning convenience
Stainless steel front with CleanSteel surface: •
Flush touch display: •
Safety
Cool front: •
Non-slip liner: •
Safety cut-out: •
Technical data
Appliance width in mm: 595
Appliance height in mm: 141
Appliance depth in mm: 570
Useable interior height in mm: 80
Voltage in V: 230
Total connected load in kW: 0,7
Fuse rating in A: 10
Number of phases: 1
Frequency in Hz: 50
Cable length in m: 2,0
Standard accessories
Non-slip liner: 1
Low temperature cooking recipe book: 1
Brick-And-Mortar
Throughout the years, we have earned our solid reputation by insistence on providing the best quality products at the best deals. Over thousands of home and kitchen appliances are displayed in BBE's showrooms in Mong Kok, Causeway Bay and Tuen mun.
Best Price
We made nearly 20,000 real online deals in Hong Kong's top one price comparison shopping website "PRICE.COM.HK". We guarantee best price for customers and have been accredited as "5-Star Merchant" in the home and kitchen electrical appliances category.
Safety Purchase
We value our data security the most. Our Website has applied with SSL certificate,which makes it more secure than others。Despite from bank transfer, online customer can choose to pay by credit card via PayPal gateway.
Powerful Online Popularity
BBE has been honored the "Trustworthy Electrical Appliances Online Sales Award" for 3 consecutive years. Organized by "Discuss.com.hk Limited", winners of the award were selected by Hong Kong internet users under "one man, one vote" system.
Authorized Dealer
We are authorized dealer for all our products. All products can enjoy at least 1 year factory warranty and 7 days damage product exchange guarantee. We also provide delivery & installation service, you can check our installation price list for detail.