BOSCH HSC290652B 25KG WARMING DRAWER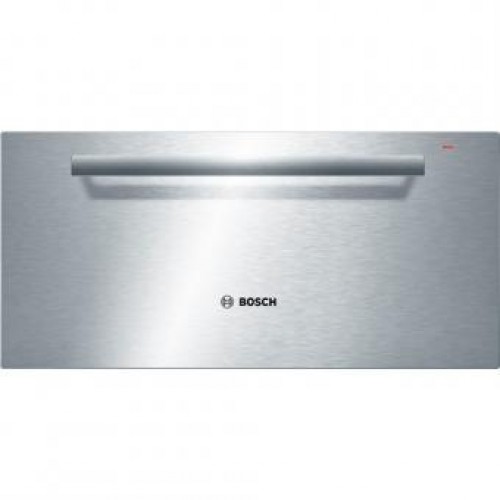 MAIN FEATURES
290 mm height
Stainless steel Cavity
Functions: Proving yeast dough, Thawing food, Keeping food warm,
Prewarming utensils
Heating temperature: 3080°
C (glass surface temperature)
Max. loading espresso cups: 120 PC or Max. loading plates: 40 PC
Loading up to 25 kg
Fully extendable pull out telescopic rails
Heating plate made of toughened glass
"Bar handle" to open/ close door
Ovens with a height of 595 mm can be installed above a 290 mm
heigh warming drawer. An intermediate floor is not required.
290 mm x 595 mm x 290 mm
Connected load: 0.81 kW (13A)
Length wire connection: 150 cm
Color / Material Front Stainless steel
Type of control setting and signalling devices rotating switch
Maximum number of espresso cups 120
Maximum number of plates 40
2 Years Bosch Warranty
TECHNICAL SPECIFICATIONS
Electrical connection rating (W) 810 W
Voltage (V) 220-240V
Frequency (Hz) 50; 60 Hz
Length electrical supply cord (cm) 150.0 cm
Dimensions of the product (mm) 290 x 595 x 544 mm