Gorenje WHT951S1XBG 90cm Wall-mounted Chimney Cooker Hood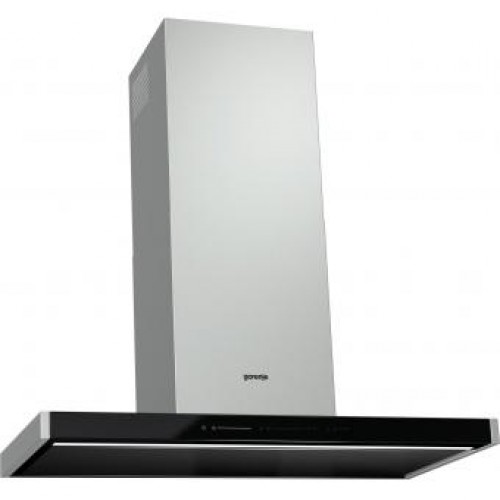 SliderTouch:
Easy control
A special innovative slider enables easy and instant changes between different power levels and lighting intensities.
P.A.S. System:
Smart, targeted air extraction with less noise
Innovative perimetric aspiration system (P.A.S.) directs its extraction power to the edges. This approach reduces energy consumption and noise at the same time. As a result air extraction is considerably more silent and efficient.
AdaptTech:
Automatic fan operation
A special sensor, when in automatic operating mode, senses the level of impurities or steam, humidity and gases and responds 
suitably. It automatically adjusts the fan speed accordingly or, when it is no longer needed, even completely stops the fan.
TouchFree coating:
Shiny and fingerprint-free finish
All stainless steel surfaces are coated with a special TouchFree film that prevents fingerprint markings, leaving the surface always shiny and making cleaning much easier.
Timer and refresh:
Always fresh and punctual
Special advantages of new Gorenje hoods include setting the timing for automatic switching off and the refresh function which is activated every hour, refreshing the air for 10 minutes.
Technical details:
Freestanding wall hood
Venting with air extraction or recirculation
Energy class: A
Material of housing/chimney: stainless steel and glass / stainless steel
Colour of housing/chimney: stainless steel and black glass / stainless steel
Lightning efficiency class: A
Grease filtering efficiency class: C
Fluid dynamic efficiency class: A
Maximum extraction rate by extraction operation: 448 m³/h
Venting tube diameter: 15 cm
Air flow by extraction version, step 1: 208 m³/h
Air flow by extraction version, step 2: 256 m³/h
Air flow by extraction version, step 3: 288 m³/h
Air flow by extraction version, step 4: 336 m³/h
AdaptTech: Automatic fan operation
Electronic control
Control setting: SliderTouch control
Timer function
Number of speed positions: 9
TouchFree Inox
Constant ventilation ReFresh
Lamp type: Led strip
Dimmer function
Number of lights: 1
Power of lights: 7 W
Airflow boost position (PowerBoost 1) - extraction: 625 m³/h
Airflow boost position (PowerBoost 2) - extraction: 669 m³/h
Perimetric suction
Filter material: Washable aluminium with polyurethane foam
Grease filter indicator
Coal filter code (optional as separate purchase): 197465
Motor type: Inverter motor
Number of motors: 1
Number of PowerBoost functions: 2
No return airflow flap: 150 mm
Noise level (max.): 62 dB(A)re 1 pW
Height: 50 mm
Min. height of the chimney: 570 mm
Max. height of the chimney: 1,110 mm
Annual energy consumption : 45.8 kWh
Dimensions of the product (W×H×D): 89.8 × 5 × 45 cm
Dimensions of packed product (W×H×D): 94.5 × 66.5 × 47.5 cm
Net weight: 26.9 kg
Gross weight: 31.7 kg
Connected load: 162 W
Code: 474624
EAN code: 3838942011344
Hoods Attribute
Origin
Europe
Size
90cm
Sort
Chimney Type