Gorenje DVG6565KRB 60cm Wall-mounted Chimney Cooker Hood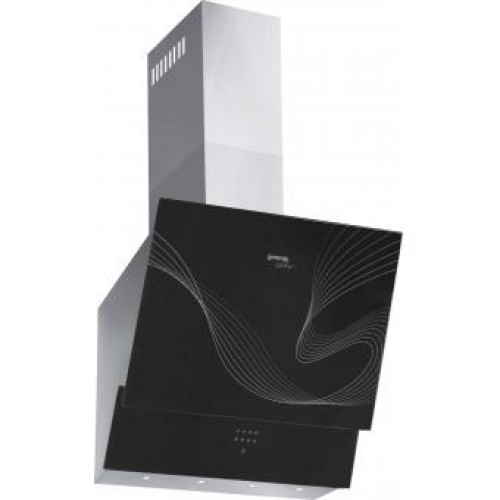 P.A.S. System:
Smart, targeted air extraction with less noise
Innovative perimetric aspiration system (P.A.S.) directs its extraction power to the edges. This approach reduces energy consumption and 
noise at the same time. As a result air extraction is considerably more silent and efficient.
Timer and refresh:
Always fresh and on time
Gorenje hoods can be automatically switched off in 10, 20 or 30 minutes. The refresh function is activated every hour and automatically starts refreshing the air for five minutes.
Easy-to-clean filters:
Metal filters in the Gorenje hoods, which are designed to remove fat particles, can be easily removed and cleaned. You can wash them by hand or in a dishwasher using a 'gentle wash' programme. However, acrylic or paper filters used for the same purpose can be simply replaced with new ones.
EDS system:
EDS is a patented system for admitting air into the hood through a specially designed curve or cylinder – since the latter has no sharp edges, the air meets little resistance and the noise created by operation is therefore reduced (typically by 4dB). Due to its aerodynamic edges and special manner in which air is admitted, this type of hood generates some 35% less noise at the same level of suction power than a comparable conventional hood.
Technical details:
Freestanding wall hood
Venting with air extraction or recirculation
Energy class: D
Material of housing/chimney: stainless steel and glass / stainless steel
Colour of housing/chimney:  black / stainless steel
Lightning efficiency class: A
Grease filtering efficiency class: E
Fluid dynamic efficiency class: E
Maximum extraction rate by extraction operation: 463 m³/h
Venting tube diameter: 15 cm
Air flow by extraction version, step 1: 211 m³/h
Air flow by extraction version, step 2: 333 m³/h
Air flow by extraction version, step 3: 463 m³/h
Electronic control
Control setting: Touch control
Timer function
Number of speed positions: 3
Constant ventilation ReFresh
Lamp type: LED
On/off light switch
Number of lights: 4
Power of lights: 4 W
Airflow boost position (PowerBoost 1) - extraction: 623 m³/h
Perimetric suction
Filter material: Aluminium
Grease filter indicator
Coal filter code (optional as separate purchase): 322147
Number of motors: 1
Number of PowerBoost functions: 1
No return airflow flap: 150 mm
Noise level (max.): 54 dB(A)re 1 pW
Height: 523 mm
Min. height of the chimney: 465 mm
Max. height of the chimney: 916 mm
Annual energy consumption : 81.2 kWh
Dimensions of the product (W×H×D): 60 × 52.3 × 44.2 cm
Dimensions of packed product (W×H×D): 72 × 55 × 62 cm
Net weight: 18.9 kg
Gross weight: 23 kg
Consumption in standby mode: 0.6 W
Connected load: 204 W
Code: 312584
EAN code: 3838942895913
Hoods Attribute
Size
60cm
Sort
Chimney Type