GAGGENAU AH900161 60cm Telescopic Hood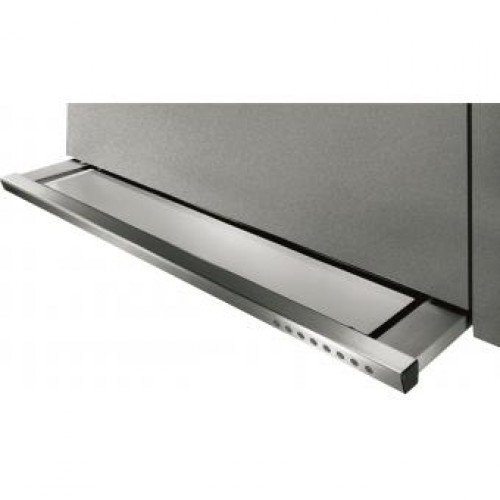 Main facts:
From the inventor of flat kitchen hoods
Especially quiet
Easy filter change
Air extraction or air recirculation system
Output:
Performance and noise level, output level 3/Intensive: 
Air output according to EN 61591. 
Sound power level according to EN 60704-3. 
Sound pressure level according to EN 60704-2-13. 
Odour reduction for air recirculation in accordance with EN 61591.
Air extraction: 
450 / 640 m³/h. 
55 / 61 dB (A) re 1 pW. 
41 / 47 dB (A) re 20 μPa.
Air recirculation: 
290 / 380 m³/h. 
65 / 70 dB (A) re 1 pW. 
51 / 56 dB (A) re 20 μPa.
Features:
Controls at front.
3 electronically controlled power levels.
Intensive mode.
Interval ventilation.
Run-on function.
Grease filter saturation indicator.
Cartridge-type filter, dishwasher-safe.
Compact fluorescent lamp 1 x 36 W.
Light can be switched on separately.
Extendable steam screen 175 mm.
DN 150 exhaust air pipe.
Connection:
Energy efficiency class D.
Total connected load 230 W.
Connecting cable 1.5 m with plug.
Hoods Attribute
Size
60cm
Sort
Telescopic Type