MIELE KM6388 Built-in Induction Hob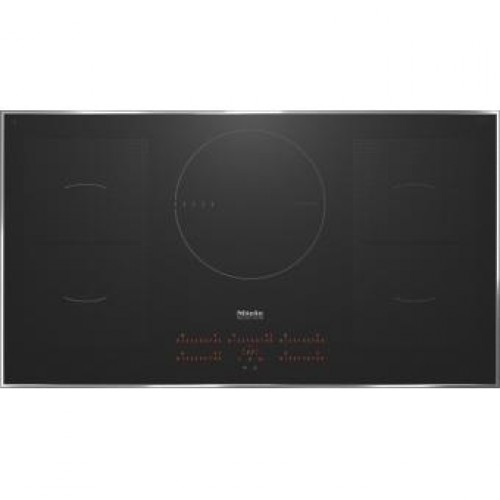 Induction hob with onset controls
in maximum width for the ultimate in cooking and user convenience.
Quick selection using num. linear keybanks - Direct control plus
Attractive design - 942 mm wide with all-round frame
Versatile and fast - 5 cooking zones incl. 2 PowerFlex zones
Communication with the hood - automatic function Con@ctivity 2.0
Broad performance spectrum -keeping warm function and TwinBooster
DirectSelection Plus
Intuitive operation - a Miele exclusive
Quick and intuitive: Power levels and times can be selected for each cooking zone using the numerical keybank.
PowerFlex induction
Versatile and flexible: Large cookware can also be heated quickly and easily.
Efficient and safe
A clear benefit: no heat loss with induction, and the ceramic glass surface stays relatively cool.
Pan size recognition
Convincing: the size of the pan is recognised by the hob and energy supplied to this area only.
Keep warm function
Food kept at serving temperature: this function controls the temperature in the pan base and prevents food from burning.
Auto heat-up
Always at the right time: This function reduces the initial power boost to prevent burning.
Programmable options
Completely unique: basic hob settings can be adapted to suit personal preferences.
Flexible cooking zones
For all sorts of cookware: Perfect for a wide variety of pans.
Timer
It makes sense: This feature allows you to set a kitchen timer.
Energy efficiency in all areas
Saves time and money: all Miele hobs set standards in terms of energy efficiency.
Easy-to-clean ceramic glass
Food can no longer burn on: because the hob surface remains relatively cool, soiling can be removed easily.
Turns off if no cookware is in place
Only on induction: if there is no pan on a zone when the hob is switched on, the power supply is interrupted immediately.
Residual heat indicator
Practical: the residual heat indicator reminds you not to touch the cooking zones when they are still hot.
Safety switch-off
Clever: if a zone has been operating on the same power level for an unusually long time, it switches off automatically.
Safety and system lock
Extremely useful: both functions prevent accidental or unauthorised switching on of the hob.
Overheating protection and fault monitoring
Protects the hob: The hob automatically switches off in the case of extreme heat.
Construction type
Independent of oven: •
Design
Elegant glass ceramic surface: •
Ceramic surface colour: Black
Print design: LightPrint
All-round stainless steel frame: •
Ring details
No. of rings: 5
PowerFlex rings
Number: 4
Diameter in mm: 150x230
Power rating in W: 2.100
Booster in W: 3.000
TwinBooster in W: 3650
Ring
Position: left centre
Type: PowerFlex bridge
Diameter in mm: 230x390
Power rating in W: 3400
Booster in W: 4800
TwinBooster in W: 7300
Ring
Position: Centred
Type: Dual-circuit ring
Diameter in mm: Ø 140-280
Power rating in W: 2600
Booster in W: 3300
TwinBooster in W: 5500
Ring
Position: right
Type: PowerFlex bridge
Diameter in mm: 230x390
Power rating in W: 3400
Booster in W: 4800
TwinBooster in W: 7300
User convenience
Operation via touchpad sensors: Direct Control Plus
Digital power level display: •
Pan/Pan-size sensors: •
Stop & Go function: •
Minute minder: •
Automatic switch-off for all rings: •
AutoBoost: •
Keeping warm: •
Individual setting options (e.g. audible signal tones): •
Efficiency and sustainability
Residual heat utilisation: •
Appliance networking
Automatic function Con@ctivity 2.0: Pre-equipped
Cleaning convenience
Easy to clean ceramic surface: •
Safety
Safety cut-out: •
Lock function: •
System lock: •
Fault monitoring: •
Integrated cooling fan: •
Overheating protection: •
Residual heat indicator: •
Technical data
Dimensions in mm (width): 942
Dimensions in mm (depth): 526
Built-in height with mains connection box in mm: 45
Cutout dimensions in mm (width): 916
Cutout dimensions in mm (depth): 500
Total connected load in kW: 11,0
Weight in kg: 17
Voltage in V: 230
Fuse rating in A: 25
Frequency in Hz: 50-60
Number of phases: 1
Cable length in m: 1,4
Standard accessories
Connection cable: •
Brick-And-Mortar
Throughout the years, we have earned our solid reputation by insistence on providing the best quality products at the best deals. Over thousands of home and kitchen appliances are displayed in BBE's showrooms in Mong Kok, Causeway Bay and Tuen mun.
Best Price
We made nearly 20,000 real online deals in Hong Kong's top one price comparison shopping website "PRICE.COM.HK". We guarantee best price for customers and have been accredited as "5-Star Merchant" in the home and kitchen electrical appliances category.
Safety Purchase
We value our data security the most. Our Website has applied with SSL certificate,which makes it more secure than others。Despite from bank transfer, online customer can choose to pay by credit card via PayPal gateway.
Powerful Online Popularity
BBE has been honored the "Trustworthy Electrical Appliances Online Sales Award" for 3 consecutive years. Organized by "Discuss.com.hk Limited", winners of the award were selected by Hong Kong internet users under "one man, one vote" system.
Authorized Dealer
We are authorized dealer for all our products. All products can enjoy at least 1 year factory warranty and 7 days damage product exchange guarantee. We also provide delivery & installation service, you can check our installation price list for detail.