Gorenje IQ634USC Built-in 4-zone IQ Induction Hob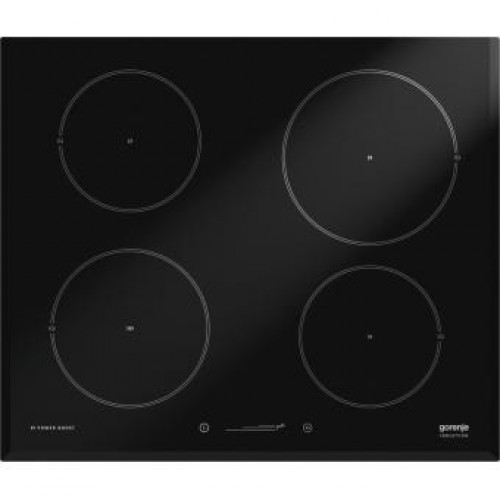 IQsteam:
Vitamins stay in
Cooking with a small quantity of water preserves vitamins, minerals and natural colour of vegetables. Believe it or not, all it takes to prepare 1kg of vegetables is 0,5dl of water.
IQpro:
A cooking marathon, made incredibly easy
IQpro offers a simple way to prepare dishes that require longer cooking times with slow warming up or cooking at a lower, constant temperature. Ideal for cooking dishes such as goulash.
IQpoach:
Exactly the right temperature
IQpoach keeps the temperature between 71 and 85°C and prevents overcooking. Food retains its natural colour, juices and flavour. The specific and constant temperature is ideal for recipes such as poaching an egg.
IQgrill:
Perfectly grilled steak
IQcook makes grilling thrillingly simple, even with very little or no oil. It offers three levels of doneness and prevents food from burning. A simple way to the tastiest and healthiest barbecue ever.
IQboil:
No drop leaves the pan
Fast water boiling and constant temperature maintaining can happen without a drop being boiled over. Feel free to watch TV and relax, because your kitchen is safe and sound.
Induction hobs
Induction hobs heat up twice as fast as gas cookers, which makes them comparatively more economical and safe. An induction hob only heats the bottom of the pan while the remaining hob surface stays cool and always safe to touch. Temperature is adjusted instantly, by a simple touch, limiting the danger of boiling over. With such a hob melted chocolate, sophisticated sauces and other temperature-sensitive masterpieces become just a simple task.
Timer:
Somebody always on the watch
The countdown timer can be set for up to 99 minutes. If the optimum cooking time for a particular dish is known from experience, the timer can be set and the hob will switch off automatically when completed. A beep will signal that the food is ready.
ChildLock:
The kitchen as a safe environment
ChildLock option is excellent for those who have children at home. Leaving them in a kitchen unauthorized has never been safer, since this option prevents them from resetting any parameters.
Technical details:
Black
Soft cut hob edges
SliderTouch, control at your fingertips
Timer function
IQcook sensor
Enhanced performance with PowerBoost
AllBoost
Silent operation SuperSilent
IQboil, cooking with a large amount of water
IQgrill, grilling mode (Doneness level setting)
IQpoach
IQpro, slow cooking
IQsteam, steam cooking
4 induction heating zones Left front: Ø 18.5 cm, 1.4/2 kW, Right front: Ø 16.5 cm, 1.2/1.4 kW, Left behind: Ø 16.5 cm, 1.2/1.4 kW, Right behind: Ø 20.5 cm, 2/2.3 kW
Residual heat indicator
ChildLock
Connected load: 7,100 W
Dimensions of the product (W×H×D): 60 × 6.1 × 51 cm
Dimensions of packed product (W×H×D): 71.5 × 14.5 × 62 cm
Niche dimensions (WxHxD) (min-max): 55.8-56 × 7.7 × 49 cm
Net weight: 10 kg
Gross weight: 10.5 kg
Consumption in standby mode: 0.5 W
Code: 464533
EAN code: 3838942652783
嵌入式煮食爐屬性
Amp
20A Or Above
Built-In Type
Induction Hob
Cook Zone
4 Burner or above
Brick-And-Mortar
Throughout the years, we have earned our solid reputation by insistence on providing the best quality products at the best deals. Over thousands of home and kitchen appliances are displayed in BBE's showrooms in Mong Kok, Causeway Bay and Tuen mun.
Best Price
We made nearly 20,000 real online deals in Hong Kong's top one price comparison shopping website "PRICE.COM.HK". We guarantee best price for customers and have been accredited as "5-Star Merchant" in the home and kitchen electrical appliances category.
Safety Purchase
We value our data security the most. Our Website has applied with SSL certificate,which makes it more secure than others。Despite from bank transfer, online customer can choose to pay by credit card via PayPal gateway.
Powerful Online Popularity
BBE has been honored the "Trustworthy Electrical Appliances Online Sales Award" for 3 consecutive years. Organized by "Discuss.com.hk Limited", winners of the award were selected by Hong Kong internet users under "one man, one vote" system.
Authorized Dealer
We are authorized dealer for all our products. All products can enjoy at least 1 year factory warranty and 7 days damage product exchange guarantee. We also provide delivery & installation service, you can check our installation price list for detail.