GAGGENAU CX480 Built-in Induction Hobs
CX 480
The entire surface of the CX 480 induction cooktop can be used as one large cooking zone. The cookware is automatically identified and heated exactly where it stands. The cooktop itself is operated intuitively using an extra-large TFT touch display which shows the positions, sizes and shapes of the cookware.
One single big cooking surface
Free positioning of cookware
All sizes and formats of cookware can be used
TFT touch display for an intuitive control of all functions
Max. power output for big cookware of up to 4.4 kW
Sturdy stainless steel frame
Cooking zones
One unique cooking surface of 2800 cm².
Up to 4 items of cookware can be placed simultaneously on the cooktop.
Handling
Easy to use colour graphic TFT touch display with use indications.
Electronic power control in 17 output levels.
Features
Booster function.
Timer for each cooking position.
Short-term timer.
Information key with use indicators.
Power management.
Safety
Main switch.
Individual pot detection.
Residual heat indicator.
Child lock.
Display cleaning protection.
Connection
Total connected load 7.2 kW.
Connecting cable 1.5 m without plug.
Appliance Dimensions:H64.5 x W793 x D513 (mm)
Built-in Dimensions:H70 x W780 x D490 (mm)
One Year Warranty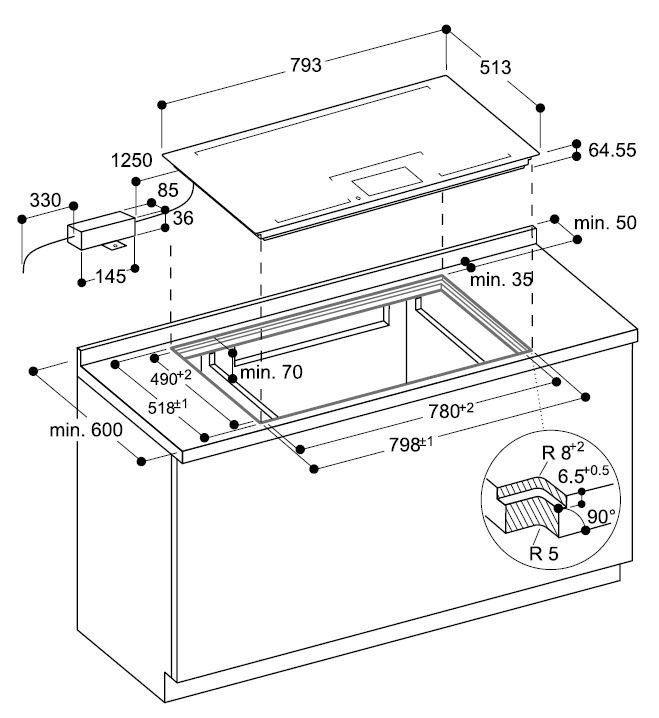 嵌入式煮食爐屬性
Amp
20A Or Above
Built-In Type
Induction Hob
Cook Zone
4 Burner or above
Origin
Germany
Size
80cm