Electrolux EHL7640FOK Built-in Induction Hobs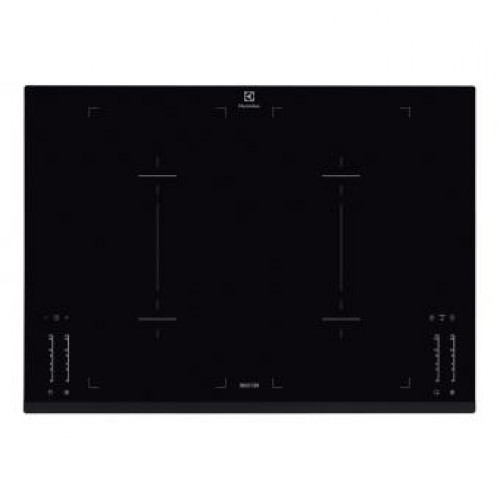 Features:
The hob allows your creativity to run wild.
The Infinite-induction cooktop offers you maximum freedom. As long as the cross markings are covered, you can place pots and pans of various sizes and shapes at any point.
Simply wipe and clean - thanks to induction technology
Thanks to the professional induction cooktop technology, its surface remains almost cold. Splashes therefore have no chance to brand and can be easily wiped away 
Unhindered intuitive control - finger pressure or by sliding your finger
The direct access controls of this hob provides a completely intuitive way to adjust the heat setting- simply touch and drag them directly to the correct settings. 
A cooktop with a hidden talent for cooking in a big way
The bridge of this cooktop does not take up much space, but offers plenty of options when cooking. It may be attached to two zones of a large zone. 
Direct access to all buttons - thanks to the built-in hob operating system
The controls of this cooktop is designed so that they are always within reach. Just touch and make the desired settings!
Save time by rapid heating to high temperatures
Save yourself the waiting time during cooking with the power level of this cooktop. You can then engage the extra power to achieve the highest temperatures in a short period of time.
Product Function:
EcoTimer- switches the hob off and uses its residual heat for the remaining cooking process
Countup Timer to keep track of how long your dish has been cooking or set the timer to alert you after a certain duration
Clever Heat - indicates three levels of residual heat
Stop & Go function so you can pause cooking at any time
Precise heat setting with 14 power levels
Direct access rotary slider contro
Specifications:
71 cm backlit induction hob
4 Infinite cooking zones
Bridge function
DirectAccess slider control
Precise heat setting with 14 power levels
Booster function
Stop&Go function so you can pause cooking at any time
CleverHeat™ - indicates three levels of residual heat
Electronic timer (1-99 minutes) for easy time management
EcoTimer™ - switches the hob off using its residual heat for the remainder of the cooking process
Child safety lock for peace mind
Color: black, with bevelled frame
Length of Cord (M) 1.5 
Certificates CE;GOST R;VDE 
Product Installation Built-in 
Gross Weight (kg) 14.48 
Net Weight 11.96 
Energy Input Electric
Halogen Plates Number 0
Frequency 50/60 
Ignition System No 
Voltage (v) 220-240 
Positions 4 
Control Panel Location Hob lateral 
Control Settings Knob 
Control type Mechanical 
Electric Plates Number 0
Number of Electric Zones 0 
Number of Gas Burners 0 
Power Heating Type 1 2300/3200W/210mm 
Power Heating Type 2 2300/3200W/210mm 
Power Heating Type 3 0W/0mm 
Power Heating Type 4 2300/3200W/210mm 
Power Heating Type 5 2300/3200W/210mm 
Power Heating Type 6 0W/0mm 
Regulation Type Stepless energy regulated 
Indicator Power On Yes 
Indicator Regulation 4 
Indicator Residual Heat Separate 
Number of Induction Plates 4 
Switch Main On/Off No
Lid Type Without 
Surface Material Steel 
Construction Type Built-in 
Electrical Connection (W) 0 740 
Gas type alternative None 
Location Heating 1 Left-front 
Location Heating 2 Left-rear 
Location Heating 3 Not applicable 
Location Heating 4 Right-rear 
Location Heating 5 Right-front 
Location Heating 6 Middle-front 
Type Heating 3 None 
Type Heating 6 None 
Radiant Plates Number 0
Gas safety type No 
Accessories None 
Plug Type Not applicable 
Gas Type None
Voltage (v) 220-240
Total connected load: 7.400W
Appliance Dimensions H55 x W710 x D520 mm
Built-in Dimensions W686 x D490 mm
Made in Germany
One Year Warranty
嵌入式煮食爐屬性
Amp
20A Or Above
Built-In Type
Induction Hob
Cook Zone
4 Burner or above
Origin
Germany
Size
70cm