Electrolux EHH9967FOZ Built-in Induction Hobs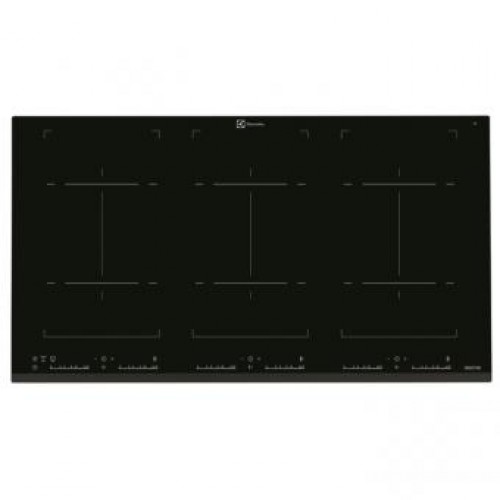 Features:
Always wipe clean – thanks to the induction technology
Thanks to this hob's professional induction technology, the surface never gets hot. So spills don't harden on, and it cleans up with just a quick wipe.
Stylish white light to harmonise with your kitchen's style
Illuminated with bright white LED light, this control panel harmonises with the other modern control panels in your kitchen.
Flexibility for cooking every course at once, plus the side dishes
With six cooking zones, this hob gives you the flexibility you need to cook several dishes at once – plus a few side dishes – just like the professionals.
Completely intuitive control – just touch or slide
This hob's DirectAccess controls make for a completely intuitive way to set the cooking level – just touch and slide straight to the right setting.
Express your individuality with this exclusive colour
The exclusive colour of this hob's glass surface is designed to reflect unique taste and style. Can it help express your individuality?
Professional cooking
Slide pots & pans instead of adjusting heat levels, the dedicated ChefMode enables the bridges to have three pre-defined power levels (e.g. hot, warm, keep warm).
Flexible cooking
Cook large pots and pans with the possibility to combine the 6 cooking zones into 3 large zones.
Quick and accurate
Thanks to intuitive DirectAccess slider controls with one touch control, you can easily and instantly set the exact temperature you need.
White LEDs
For perfect harmony with other applianes of the range.
Product Function:
Responsive Hi-Light Cooking Zones
CleverHeat™ function
EcoTimer™
CountUp Timer
Acoustic signal with switch off option
Automatic safety switch off
Child safety lock function
Key-lock function
Stop and Go function for short interruptions
Automatic fast heating up
Pot detection
Induction zones with power booster function
Illuminated controls
Direct Access: sliding touch control technology
Hob with bevelled frame
Independant hob with controls
Specifications:
91 cm induction hob
6 InfiniteFlex™ cooking zones
ChefMode
Bridge function
DirectAccess slider control
White LED user interface
Precise heat setting with 14 power levels
Booster function
Stop&Go function so you can pause cooking at any time
CleverHeat™ - indicates three levels of residual heat
Electronic timer (1-99 minutes) for easy time management
EcoTimer™ - switches the hob off using its residual heat for the remainder of the cooking process
Child safety lock for peace mind
Color: black glass, with bevelled frame
Power Heating Type 1 2300/3200 
Power Heating Type 2 2300/3200 
Power Heating Type 3 2300/3200 
Power Heating Type 4 2300/3200 
Power Heating Type 5 2300/3200 
Power Heating Type 6 2300/3200 
Location Heating 1 Front left 
Location Heating 2 Front middle 
Location Heating 3 Front right 
Location Heating 4 Rear left 
Location Heating 5 Rear middle 
Location Heating 6 Rear right 
Type Heating 1 Induction 
Type Heating 2 Induction 
Type Heating 3 Induction 
Type Heating 4 Induction 
Type Heating 5 Induction 
Type Heating 6 Induction 
Dim Heating Setting 1 180x210 
Dim Heating Setting 2 180x210 
Dim Heating Setting 3 180x210 
Dim Heating Setting 4 180x210 
Dim Heating Setting 5 180x210 
Dim Heating Setting 6 180x210
Voltage (v) 220-240
Total connected load: 11.100W
Appliance Dimensions H50 x W910 x D520 mm
Built-in Dimensions W886 x D490 mm
Made in Germany
One Year Warranty
嵌入式煮食爐屬性
Amp
20A Or Above
Built-In Type
Induction Hob
Cook Zone
4 Burner or above
Origin
Germany
Size
90cm