ELECTROLUX EHG6341FOK Built-in Induction Hobs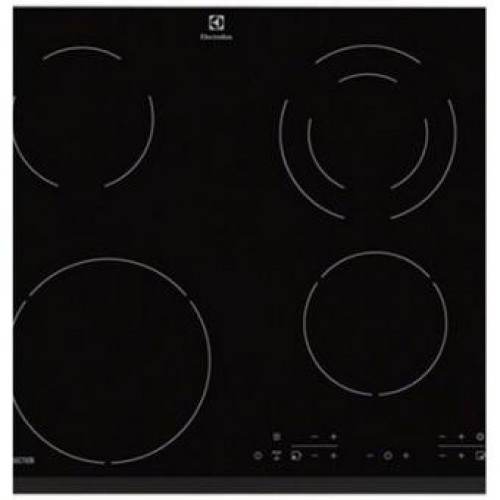 Features:
And induction, and electric - everything at your fingertips
Purchasing this combined hob, getting paid and induction, and electric hot plates, so you are free to use different sources of energy
Direct access to all buttons - thanks to the built-in hob operating system
The controls of this cooktop is designed so that they are always within reach. Just touch and make the desired settings!
Save time by rapid heating to high temperatures
Save yourself the waiting time during cooking with the power level of this cooktop. You can then engage the extra power to achieve the highest temperatures in a short period of time.
Slow cooking and restart - one-touch
Sometimes, the food preparation needs to be paused temporarily. Using the one-touch "Stop + Go" function, the cooking process is slowed down. The cooking process can be restarted using the same settings at a later time.
Hotplates, which heats only when they are on the pan
For smart technology that induction cooktop hob is only when they come in to help on the pan. Saucepan pull it off by itself.
Intuitive cooking process to end management
Use the intuitive control timer. When the cooking time is over, it automatically turns off the hob and informs you with the sound signal.
Product Function:
Easy to clean ceramic surface
Pot detection
Timer with signal and automatic swtich-off intuitive control
Automatic fast heating up
Precise heat setting with 7 power levels
Induction zones with power booster function
Independent hob with touch control
Stop & Go function so you can pause cooking at any time
Specifications:
Length of Cord (M) 1.5
Certificates CE;GOST R;VDE
Product Installation Built-in
Gross Weight (kg) 10.96
Net Weight 9.72
Energy Input Electric
Halogen Plates Number 0
Frequency 50/60
Ignition System No
Positions 4
Control Panel Location Hob front
Control Settings Touch
Control type Electronic
Electric Plates Number 0
Number of Electric Zones 0
Number of Gas Burners 0
Power Heating Type 1 2300/3700W/210mm
Power Heating Type 3 0W/0mm
Power Heating Type 4 700/1700W/120/180mm
Power Heating Type 5 1400/2500W/145mm
Power Heating Type 6 0W/0mm
Regulation Type Stepless energy regulated
Indicator Power On Yes
Indicator Regulation 1
Indicator Residual Heat Separate
Number of Induction Plates 2
Switch Main On/Off NO
Lid Type Without
Surface Material Steel
Construction Type Built-in
Electrical Connection (W) 0 660
Gas type alternative None
Location Heating 1 Left-front
Location Heating 2 Left-rear
Location Heating 3 Not applicable
Location Heating 4 Right-rear
Location Heating 5 Right-front
Location Heating 6 Middle-front
Type Heating 3 None
Type Heating 4 Dual Circuit Round;Hilight
Type Heating 6 None
Radiant Plates Number 2
Gas safety type No
Accessories None
Plug Type Not applicable
Gas Type None
Voltage (v) 220-240
Total connected load: 6600W
Appliance Dimensions H55 x W590 x D520 mm
Built-in Dimensions W566 x D490 mm
Made in Germany
One Year Warranty
嵌入式煮食爐屬性
Amp
20A Or Above
Built-In Type
Induction Hob
Cook Zone
4 Burner or above
Origin
Germany
Size
60cm
Brick-And-Mortar
Throughout the years, we have earned our solid reputation by insistence on providing the best quality products at the best deals. Over thousands of home and kitchen appliances are displayed in BBE's showrooms in Mong Kok, Causeway Bay and Tuen mun.
Best Price
We made nearly 20,000 real online deals in Hong Kong's top one price comparison shopping website "PRICE.COM.HK". We guarantee best price for customers and have been accredited as "5-Star Merchant" in the home and kitchen electrical appliances category.
Safety Purchase
We value our data security the most. Our Website has applied with SSL certificate,which makes it more secure than others。Despite from bank transfer, online customer can choose to pay by credit card via PayPal gateway.
Powerful Online Popularity
BBE has been honored the "Trustworthy Electrical Appliances Online Sales Award" for 3 consecutive years. Organized by "Discuss.com.hk Limited", winners of the award were selected by Hong Kong internet users under "one man, one vote" system.
Authorized Dealer
We are authorized dealer for all our products. All products can enjoy at least 1 year factory warranty and 7 days damage product exchange guarantee. We also provide delivery & installation service, you can check our installation price list for detail.