Electrolux EGC3310NOK(TG) Built-in Towngas Hobs
Features:
Wok burner
For high performance cooking our specially designed wok burner provides maximum heat enabiling you to create authentic stir-fries.
Automatic ignition
Push and turn the control knob and the flame ignites.
Precision heat control for the most delicious results
For precision control, the rotary control on this hob enable you to quickly and accurately adjust the temperature to exactly the right setting. High quality knob provides high heat resistance and durability.
Safety guaranteed thanks to automatic shut-off
If the flame accidentally goes out, the gas is shut off from the source, ensuring perfect safety
Product Function:
Responsive Hi-Light Cooking Zones
Gas on glass is a great design feature and easier to keep clean
Cast iron wok support
Gas safety thermocouples
Automatic integrated ignition for easy operation
High quality knob with high heat resistance and durability
Stable and durable cast iron trivet, for professional appearance
Specifications:
Main Colour Black 
Energy Input Gas 
Frequency 50 
Control Panel Location Hob Front 
Control Settings Knob 
Control type Mechanical 
Number of Gas Burners 1 
Construction Type Built-in 
Gas Connection LPG and towngas 
Gas type alternative LPG and towngas 
Gas connection rating 5 
Pan Support Cast iron pan support 
Gas safety type Gas safety thermocouples
30 cm gas on glass hob
High power 4.7 kW double crown burner
Cast iron pan support
Gas safety thermocouples
Integrated electric ignition through control knob
High quality knobs with high heat resistance and durability
Stable & durable cast iron trivet, for professional appearance
GU05 approved
Voltage (v) 220 / 13A
Appliance Dimensions H60 x W300 x D510 mm
Built-in Dimensions W280 x D490 mm
Made in Italy
One Year Warranty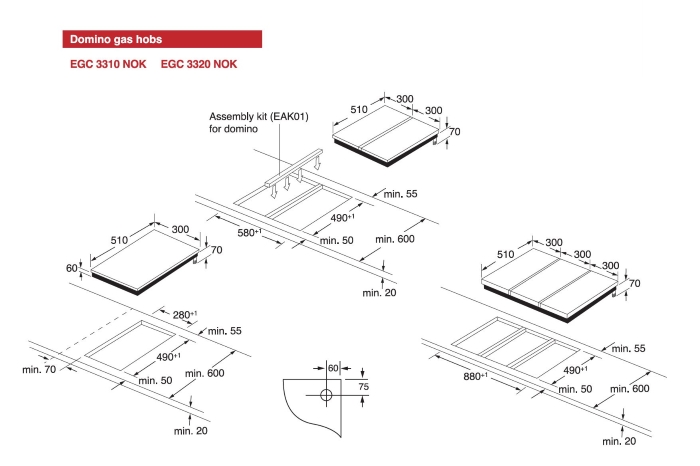 嵌入式煮食爐屬性
Built-In Type
Gas Hob
Cook Zone
Single Burner
Origin
Italy
Size
30cm or below