Bosch MMB43G3BGB Blenders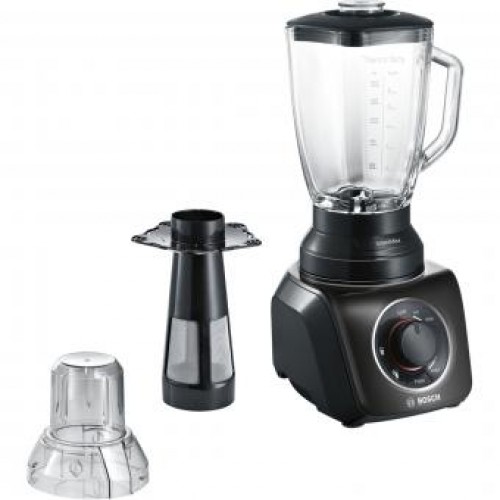 The Bosch SilentMixx chops, mixes and blends ingredients of your choice quickly, reliably and, above all with minimum noise
Thanks to its innovative Noise Reduction System, the SilentMixx performs so quietly.
The Easy KlickKnife guarantees the best results and can be taken out very easily for cleaning.
Smoothies or crushed ice – thanks to two individual automatic programs, you always get the results you want at the touch of a button.
The thick-walled ThermoSafe glass blender – for easy and safe mixing of hot soups and ice-cold beverages.
Additional accessories: with a smoothie filter and a practical chopper, the SilentMixx becomes an all-rounder among power-blenders.
Excellent Results
700 W motor: Powerful for every application
High quality ThermoSafe glass for a safe preparation of hot soups and cold drinks
Smoothie filter for seedless smoothies and chopper for comfortable and fast chopping of herbs, onions or spices
Also suitable to crush ice for cold drinks
Comfort
Stainless steel Easy KlickKnife for precise cutting, chopping and mixing - and easy to clean
2 Automatic programmes for crushed ice and drinks
Illuminated knob with stepless speed setting and Pulse function
Measuring cup in lid with scale (Max. 50ml)
Cleaning
Simply detachable Easy KlickKnife and dishwasher safe parts (Jug, lid, measuring cup and accessories)
Material/Design
High quality ThermoSafe glass jug with 2.3 l capacity (with food: 1.5 l)
All plastics that are in contact with food are BPA free
Accessories included
Chopper attachment to chop small amount (e.g. onions)
Juice filter for perfect seedless smoothies and soy milk