German Pool PRO-M1 High Speed Food Processor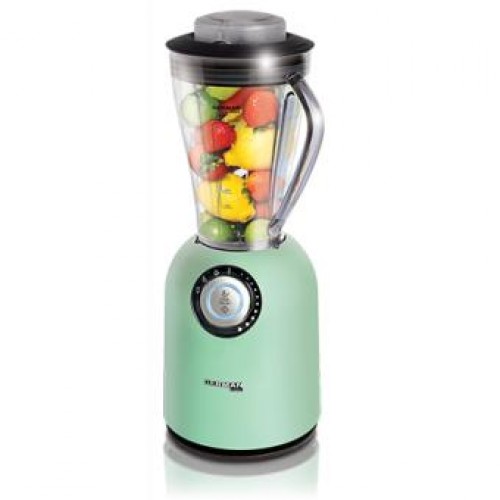 Chic and petite design for space-saving
Dual Blender for indoor and outdoor use
Unique Speed Sensor for an even blend
Super high-speed motor for thorough food processing
Innovative iDial control for easy programme selection
Smart Control – ideal for green hands,trn left for 3 designed programs: Bisque, Phyto-Rich and Smoothie. No need to adjust time or speed.
Manual Speed Control – ideal for master,turn right for 10 different blending speeds. Easy operation with "Jog" button – appliance works while pushing and stops as soon as you release the button.
Japanese HCS Blending Blades, the enhanced Japanese 6-piece high-carbon steel (HCS) blending blades are ultra-durable and heat-resistant. The whole piece of vegetable or fruits can be grinded together with their pulp, peels and seeds.
Powerful Motor,with high-speed for over 23,000 rpm, the motor blends the ingredients thoroughly, liberating rich fiber and nutrient even without the need of peeling and de-seeding.
Smart Speed Control,with effective resistance sensor, the appliance can do auto speed control to ensure best blending result.
'Phyto-Rich'" Vegetable Programme,unique pre-programmed based on the blending cycle recommended by an expert in naturopathy and nutrition. So you can now enjoy truly beneficial juices simply with the press of a button.
Triple Safety Protection:
1. Vibration Switch
2. Over-heat Protection
3. Overload Protection
SPECIFICATIONS:
Sub Model:PRO-M1GN (Green) /PRO-M1GY (Grey) /PRO-M1PK (Pink) /PRO-M1YL (Yellow)
Voltage:220-240 V
Power:800 W
Jar Capacity:1 L (Blender Jar),600 ml (Sports Jar)
Type of Blade / Blade Material:Japanese HCS 6-Piece Blending Blades
Colour:Pastel Green (GN) /Silvery Grey (GY) /Coral Pink (PK) /Custard Yellow (YL)
Dimensions:(H) 429 (W) 170 (D) 170 mm
Packing Dimensions:(H) 309 (W) 380 (D) 275 mm
Net Weight:3.9 kg
Gross Weight With Packing(KG):5.2 kg
Max. Temperature125 °C
Control PanelJog Dial
Other Functions:Vibration Switch,Over-heat Protection,Overload Protection
Warranty Term:1 Year