German Pool PRO-6SS High Speed Food Processor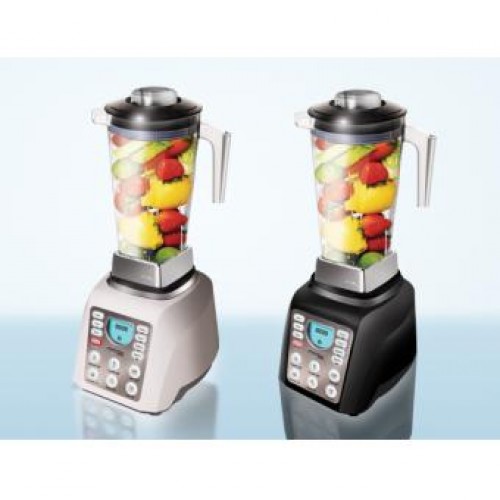 Upgraded S Series Professional High-Speed Food Processor
Super high-speed motor for thorough food processing, the exceptionally high-speed motor ensures the most refined and thorough blending of all kinds of food. Thus nutrients and fibres in fruits and vegetables can be completely consumed.
Uniquely programmed "vegetable" button to produce hi-fibre juice
One-touch preset function keys for vegetable, soy milk, sauce, smoothie, bisque and nut processing, the built-in pre-set programmes such as Vegetable, Soy Milk, Sauce, Smoothie, Bisque & Nuts make it more convenient than ever to create a variety of dishes with a press of the button. No monitoring is necessary.
Fully-automatic operation with time & speed buttons for precise adjustment. The operation is fully automatic. And yet, users have the flexibility to adjust time and speed settings during operation. The LED display lets you monitor the operating status so you are always in full control.
Back-lit buttons for easy programme selection
2-litre extra-large blender jar made of heat-resistant BPA-free Tritan material.
Sleek mirror-finish LCD display
2-litre extra large capacity
Durable Japanese high-carbon steel 6-piece blending blades. The enhanced Japanese 6-piece high-carbon steel (HCS) blending blades are ultra durable and heat-resistant. The whole piece of fruit can be blended into juice even without the need of peeling and de-seeding.
The brand new stainless steel blending jar focuses its centre of gravity at the base. The processor works sturdily during high-speed operation to prevent excessive wearing out to the moving parts
Triple safety protection
The food processor comes with an anti-tipover jar base made of stainless steel & triple safety devices including displacement shut-off, over-heat protection and current overload safety protection.
Extra Rigid Stainless Steel JAR-30 
Better Durability & Mega Safe 
The enhanced stainless steel blending jar focuses its centre of gravity at the base. The jar's moving parts engage better with the high-speed motor to prevent wearing out the parts prematurely, making the enhanced Stainless Steel Base Blending Jar is safer and sturdier.
ACCESSORIES:
Tamper with Thermometer THM-10
Usage 1: Measuring Temperature
Conveniently measures temperature to meet your cooking and children's food safety needs.
Usage 2: Mixing ingredients
Helps blending thick ingredients. It works perfectly together with the PRO Series.
Grinder & Smoothie Maker GSM-10
Creates a great variety of food with a press of the button. Its extra-large capacity is great for bean-grinding and making smoothies and milkshakes. It works perfectly with the PRO Series.
SPECIFICATIONS:
Sub Model:PRO-6SSB / PRO-6SSW
Voltage:220-240 V
Power:1,680 W
Jar Capacity:2 L
Type of Blade / Blade Material:Japanese HCS 6-Piece Blending Blades
Max. Temperature:125 °C
Control Panel:LCD Display
Other Functions:Vibration Switch, Over-heat Protection and Overload Protection
Colour:Black / White
Dimensions:(H) 530 (W) 240 (D) 260 mm
Packing Dimensions:(H) 390 (W) 295 (D) 310 mm
Net Weight:5.52 kg
Gross Weight With Packing (KG):6.8 kg
Warranty Term:1 Year