German Pool PRO-11 High Speed Food Processor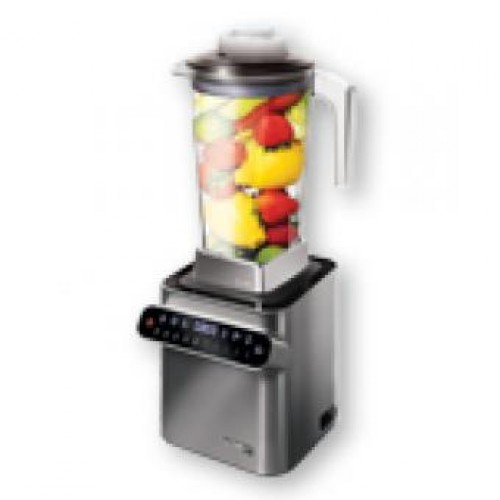 Super high-speed motor for thorough food processing, the exceptionally high-speed motor ensures the most refined and thorough blending of all kinds of food. Thus nutrients and fibres in fruits and vegetables can be completely consumed.
Uniquely programmed "vegetable" function to produce hi-fibre juice
The built-in pre-set programmes including Vegetable, Soy Milk, Sauce, Smoothie, Bisque & Nuts can be accessed by simply turning the iDial jog wheel control. Monitoring or adjustment during operation is not neccessary.
Glossy charcoal body as an excellent choice for stylish home
Chic design with LED backlit touch keys and display for easy operation
2-Litre extra large capacity
Sturdy and heat-resistant BPA-free TritanTM material, safe for both hot and cold dishes
Durable Japanese high-carbon steel 6-piece blending blades,the enhanced Japanese 6-piece high-carbon steel (HCS) blending blades are ultra durable and heat-resistant. The whole piece of fruit can be blended into juice even without the need of peeling and de-seeding.
The brand new stainless steel blending jar focuses its centre of gravity at the base. The processor works sturdily during high-speed operation to prevent excessive wearing out to the moving parts
Triple safety protection
Extra Rigid Stainless Steel JAR-30 
Better Durability & Mega Safe 
Phyto-Rich' Vegetable Function Key is uniquely pre-programmed based on the blending cycle recommended by an expert in naturopathy and nutrition. You can now enjoy truly beneficial juices simply with the press of a button.
One-Step Pre-set Programme
Blend for 30 sec, then blend at low speed for 10 sec, and turn to high speed for 60 sec, and finally blend at low speed for 10 sec.
The enhanced stainless steel blending jar focuses its centre of gravity at the base. The jar's moving parts engage better with the high-speed motor to prevent wearing out the parts prematurely, making the enhanced Stainless Steel Base Blending Jar is safer and sturdier.
ACCESSORIES:
Tamper with Thermometer THM-10
Usage 1: Measuring Temperature
Conveniently measures temperature to meet your cooking and children's food safety needs.
Usage 2: Mixing ingredients
Helps blending thick ingredients. It works perfectly together with the PRO Series.
Grinder & Smoothie Maker GSM-10
Creates a great variety of food with a press of the button. Its extra-large capacity is great for bean-grinding and making smoothies and milkshakes. It works perfectly with the PRO Series.
SPECIFICATIONS:
Sub-model #:PRO-11C / PRO-11CM
Voltage:220 - 240 V / 50 Hz
Power:1680 W
Electric Current:6.4 A
Capacity:2.0 L
Max. Temperature:99 °C
Type of Blade / Blade Material:HCS (Japan)
Control Panel:Rotary Selector, LCD display
Safty Features:Triple safety protection
Colour:Charcoal Grey, glossy Charcoal Grey, matte
Dimensions:(H) 518 (W) 168 (D) 202 mm
Packing Dimensions:(H) 432 (W) 307 (D) 267 mm
Net Weight:5 kg
Gross Weight With Packing:6.6 kg
Certification / Standard:ITS -GS, CE, EMC, CB, LVD, CCC, PAH
Warranty Term:1 Year