German Pool PHD-100 High Speed Food Processor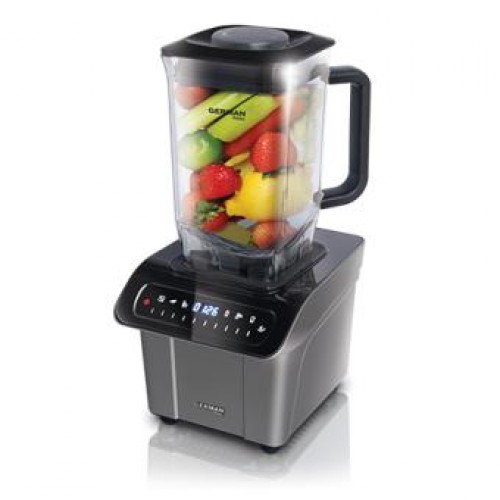 Ultra-silent brushless DC motor,anti-resistance and extra powerful, the brushless DC motor can easily turn stiff ingredients into extremely fine mixtures. The motor also breaks cell walls, releasing abundant nutrients, which are to be fully absorbed by your body.
Low-speed Processing, the brushless DC motor can run in low speed. With its ultra-high torque design, the motor can complete kneading tasks that no ordinary food processor can handle, thus satisfying different cooking needs.
Silent & Power-Saving, the brushless DC motor generates minimal friction during operation so that noise is minimized. The DC motor uses direct current, saving up to 30% of electricity.
Ultra-long Service Life, the brushless DC motor sustains almost zero wear and tear during operation, prolonging its service life to more than 10 years.
Wide-range multi-speed control
Patented SmartCorner wavy design,The SmartCorner design enhances torsion for an all-round and even blending effect.
Six one-click start automatic programs
Japanese high carbon mono-blade,excels in blending thick fluid or dry-grinding. Possible for blending solid ingredients like meat.
BPA-Free Blender Jar,made of FDA approved BPA-free Tritan™ material, the blender jar allows you to cook and store infant food safely.
'Phyto-Rich' Vegetable Program, uniquely pre-programmed based on recommendations by naturopathy and nutrition experts. You can now enjoy phytonutrient-rich juices simply with the press of a button.
SPECIFICATIONS:
Voltage:220-240 V(China 3C version: 220 V)
Power:1,200 W
Jar Capacity:Large Blender Jar 1 L, Sport Jar 600 ml
Type of Blade / Blade Material:Durable Japanese high-carbon steel mono-blade
Colour:Silver
Dimensions:(H) 430 (W) 245 (D) 484 mm
Packing Dimensions:(H) 427 (W) 305 (D) 288 mm
Net Weight:6.2 kg
Gross Weight With Packing (KG):7.5 kg
Max. Temperature:125 °C
Control Panel:LCD Display, Touch-Sensing
Other Functions:Vibration Switch, Over-heat Protection and Overload Protection
Warranty Term:1 Year