Bosch MCM68861GB Styline Food Processor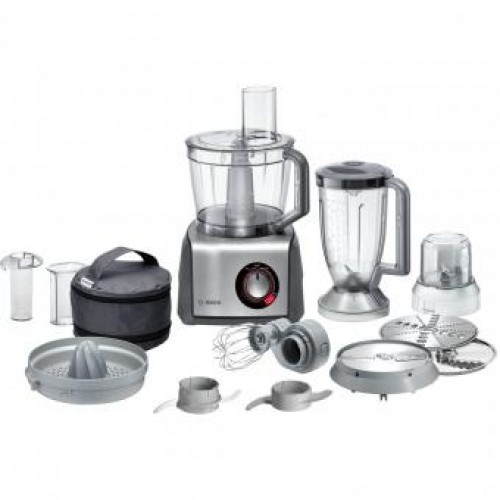 For multifunctional use with more than 50 functions for chopping, rasping, slicing, kneading dough, extracting juice and beyond.
Powerful 1250 watts to take on high volumes and manage difficult foods without a problem.
XXL bowl with 3.9 l capacity for up to 1.5 kg of dough and blender attachment for 1.5 l
Innovative multifunctional blade Supercut for perfect chopping results every time
Mini chopper to practically chop small amount of herbs, meat, cheese, vegetables, fruits etc.
Stepless speed setting, moment and pulse function, LED user guidance
Big 3.9 l transparent plastic mixing bowl for 750 g flour + ingredients (maximum 1.5 kg of dough mixture) including lid with funnel and stuffer
1.5 L liquidiser for mixing, blending and chopping
Mini chopper with QuattroBlade for chopping smaller quantities of herbs, meat, cheese, vegetables, fruits etc.
Supercut multifunctional knife for constantly perfect chopping results
Reversible slicing (thick and thin) and reversible grating (coarse and fine) discs
French fries disc
Discs stainless steel
Disc holder for extra stability
Dough tool
Whisk (stainless steel) for cream, egg white and light doughs
Citrus press
Practical accessory bag
Integrated cable storage
Safety locking lids
Rubber suction feet for extra stability
Colour of body dark grey / brushed stainless steel