GAGGENAU RW464361 Vario Double Temperature Zone Wine Climate Cabinet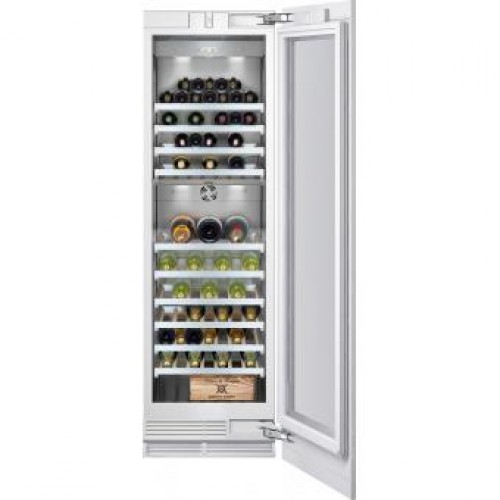 Main facts:
Two independantly controllable climate zones
Consistant temperatures with exact control from +5 °C to +20 °C
Humidity control
Stainless steel interior
Fully extendable bottle trays in beech and aluminium
Presentation light option
Low-vibration operation
Capacity 98 bottles
Aluminium profiles of bottle trays and presenters for single bottle display can be labeled with Stabilo All 8046 pencil.
Handling:
Electronic temperature control with digital display.
Features:
Dynamic cold air distribution.
Automatic defrosting with defrost water evaporation.
Antimicrobial activated charcoal air filter.
UV-protection.
Energy-saving vacation mode.
Open-door and malfunction alarm.
Features:
Net volume 390 litres.
Capacity 98 bottles (based on 0.75/l standard bottles).
10 fully extendable bottle trays, up to 4 of which for storage of magnum bottles.
Space for max. 14 bottle trays or shelves in aluminium.
Interior lighting with 2 ceiling spots in each climate zone, can be used as presentation light.
Product rating:
Energy efficiency class B.
Energy consumption 237 kwh/year.
Noise level 42 dB (re 1 pW).
Connection:
Total connected load 0.131 kW.
Connecting cable 3.0 m, pluggable.