Liebherr WKes4552 Single Temperature Zone Wine Coolers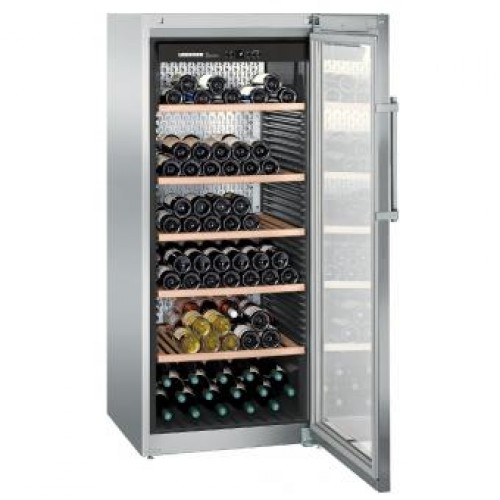 Finish: Stainless steel
Door: S/S frame insulated glazed glass door
1 temperature Zone (5-20oC)
Storage: 201 Bordeaux bottles (Net 435L)
Storage shelves: 6
Wooden shelf
H1650mm / W700mm / D742mm
Energy efficiency class: A+
Energy consumption in 24h: 0.364 kWh / 24h
Energy consumption per year: 133 kWh/a
Climate class: SN-ST
Noise level: 41 dB
Net capacity, total: 435 l
Gross capacity, total: 478 l
Voltage: 220-240 V ~ V
Frequency: 50 Hz Hz
Connection rating: 1.0 A
Weight (without packaging): 89.0 kg
Weight (with packaging): 97.0 kg
Door hinges: right interchangeable
LED lighting
The innovative LED lighting guarantees the even illumination of the interior without UV exposure. Since minimal heat is generated by the LEDs, wines can be presented bathed in light over a prolonged period of time.
PowerCooling system
The high-performance PowerCooling system rapidly cools down freshly stored food and creates an even cooling temperature throughout the interior. A door contact switch turns the fan off when the door is opened.This saves valuable energy.
Door alarm
The audible door alarm alerts the user if the door has been open for longer than 60 seconds for safe protection of the food.
Child lock
The child lock is programmed so as to prevent the appliance being inadvertently switched off.A symbol in the MagicEye indicates when the child lock is switched on.
Reversible door hinges
The appliances are factory fitted with door hinges on the right. The reversible door hinges permit optimum use of the appliance wherever it is located.
Door-on-door system
The unit door and appliance door are firmly interconnected with the unit door being fixed directly onto the appliance door.
Wine storage cabinets
Wine storage cabinets provide similar conditions to wine cellars. A constant temperature prevails throughout the interior in these appliances. It can be set to between +5 °C and +20 °C as required. Wine storage cabinets are ideal for the long-term storage and maturing of wines. Depending on the set temperature, these appliances can however also store more ample stocks of wineat serving temperature. In the GrandCru and Vinothek series, Liebherr offers multi-temperature wine cabinets in different sizes and with different features.
Controllable temperature range
Constant storage temperatures are required to allow wines to mature to perfection. The ideal temperature for maturing is the same for all wines, whether red or white, and lies between +10°C and +12°C. The precision electronic control system combined with state-of-the-art climate technology ensures that the set temperatures in the interior are continuously maintained, even when the ambient temperature is subject to severe fluctuations.
Activated charcoal filter
Environmental odours can affect wines stored for longer periods.In the wine cabinets, perfect air quality is ensured through an easily-replaceable FreshAir activated charcoal filter.
Low-vibration storage
Even slight vibrations can disturb the wine maturing process and prevent the tannins from settling. Specially developed, exceptionally low-vibration compressors in all the wine cabinets mean that the wine is optimally stored.
Ideal humidity
Maintaining the proper humidity is an important aspect for the storage of wines. In this way, corks remain supple and do not dry out. Wine should be stored in a horizontal position to keep the corks moist from the inside. With over 50 % air humidity, wine cabinets guarantee the perfect conditions. The air humidity can be controlled as required in the wine storage cabinets by pressing the ventilation button.
Integrated heater
An integrated heater permits temperatures above the ambient temperature to be reached. This can be very important, for example to bring red wine to drinking temperature (approx. +18 °C).
Insulated glass door
Wine bottles are in most cases tinted because UV light has a damaging effect on wine maturation. However, the bottles alone are insufficient protection.In order to minimise the exposure to radiation, Liebherr wine cabinets feature special UV-resistant glass. In this way, stocks of wine can be protected and simultaneously stylishly showcased.
Brick-And-Mortar
Throughout the years, we have earned our solid reputation by insistence on providing the best quality products at the best deals. Over thousands of home and kitchen appliances are displayed in BBE's showrooms in Mong Kok, Causeway Bay and Tuen mun.
Best Price
We made nearly 20,000 real online deals in Hong Kong's top one price comparison shopping website "PRICE.COM.HK". We guarantee best price for customers and have been accredited as "5-Star Merchant" in the home and kitchen electrical appliances category.
Safety Purchase
We value our data security the most. Our Website has applied with SSL certificate,which makes it more secure than others。Despite from bank transfer, online customer can choose to pay by credit card via PayPal gateway.
Powerful Online Popularity
BBE has been honored the "Trustworthy Electrical Appliances Online Sales Award" for 3 consecutive years. Organized by "Discuss.com.hk Limited", winners of the award were selected by Hong Kong internet users under "one man, one vote" system.
Authorized Dealer
We are authorized dealer for all our products. All products can enjoy at least 1 year factory warranty and 7 days damage product exchange guarantee. We also provide delivery & installation service, you can check our installation price list for detail.