MIELE CVA6800 CleanSteel Built-In Coffee Machine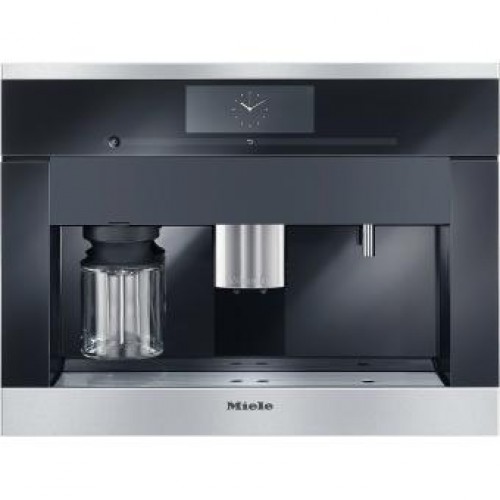 Built-in coffee machine
with bean-to-cup system - the Miele all-rounder for the highest demands.
Perfect results and intense coffee flavour - AromaticSystem
Fully automatic perfection - OneTouch for Two
Unique automatic sensing of cup height - CupSensor
Innovative and convenient milk system - EasyClick milk system
Convenient cleaning for care and mainten. - Cleaning programmes
OneTouch and OneTouch for Two
For more enjoyment together
Single or double: Extra programme for preparing one or two espresso, coffee, cappuccino, etc.
EasyClick milk system
Innovative and only from Miele: The milk system simply clicks into place at the front and is as easily removed.
CupSensor
Ideal distance: The CupSensor recognises the cup rim and alters the position of the central spout accordingly.
ComfortDoor
Easy access: Convenient access to bean container, water container, waste container and drip tray.
Automatic rinsing of water container milk pipework
Excellent user convenience: After making special coffee with milk, the machine is cleaned automatically
AromaticSystem
Intelligent technology: The brew chamber mixes coffee and water perfectly.
Ground coffee chute
Quick and to your taste: There is no need to change the beans for a second type of coffee, e.g. decaf coffee.
Coffee pot function
Convenient when having guests: Up to eight cups of coffee are produced for your visitors or for a meeting.
BrilliantLight
Places every cup in the spotlight: soft LED lighting creates a pleasant atmosphere.
Timer functions
For coffee when you want it: switch-on and switch-off times can be programmed as required.
Eco mode
True energy savings: in eco mode, the appliance heats up automatically just before the preparation process starts.
Automatic rinsing function and cleaning programmes
Best results: The cleaning programmes in combination with the rinsing function ensure the best possible hygiene.
ComfortClean
Thorough cleaning and long lasting care: many components are dishwasher-proof.
Easily removable brew unit
Easy to remove and clean: A guarantee for impeccable hygiene, longevity and perfect coffee enjoyment.
System lock
Very sensible: The lock mechanism prevents unintentional operation, for example even by children.
Built-in cup warmer - pre-warmed cups
Perfect coffee enjoyment: Patented1technique warms the cups half an hour before the switch-on time.
Conical grinding mill
For best coffee aroma: the mill grinds the coffee beans very evenly and thoroughly.
Speciality Drinks:
-Espresso
Excels with its distinctive intense flavour and a thick crema.
-Coffee
Simply made with water and freshly ground coffee.
-Long coffee
A greater amount is dispensed than a normal coffee, so even your favourite mug is completely full.
-Cappuccino
A perfect combination of espresso and creamy hot milk froth
-Caffè latte
In contrast to cappuccino, it is made from hot milk and espresso.
-Latte macchiato
A composition of strong espresso, hot milk and milk froth.
Design
PureLine: •
Colour: Stainless steel/Clean Steel
Display: M Touch
Beverage specialities
Espresso: •
Coffee: •
Long coffee: •
Cappuccino: •
Latte macchiato: •
Caffè latte: •
Hot water: •
Hot milk:•
Milk froth: •
Consumer benefits
OneTouch preparation: •
One Touch and OneTouch for Two: •
Second type of coffee possible using ground coffee: •
Flavour preserving conical grinding unit: •
User profiles programmable: 11
Grinding grade selectable: •
Ground quantity programmable: •
Water quantity programmable: •
Water temperature programmable: •
Amount of milk can be programmed: •
Amount of milk froth can be programmed: •
Pre-brewing programmable: •
Coffee pot function: •
User convenience
Choice of language: •
Date display: •
Time of day display: •
CupSensor: •
Height adjustment of infinitely adjustable central spout in cm: 8-17
ComfortDoor: •
BrilliantLight: •
Hidden door handle: •
Easily accessible containers: •
Removable coffee bean container: •
Capacity of coffee bean container in g: 500
Capacity of water container in 1: 2,3
Capacity of waste container in capsules: 15
Programmable switch-on time: •
Programmable switch-off time: •
Programmable stand-by time: •
Can be combined with warming drawer: •
Clock battery backup in h: 200
Cleaning convenience
Stainless steel front with CleanSteel surface: •
Convenient cleaning programmes: •
Automatic rinsing of the milk pipework from the water container: •
Automatic rinse function: •
ComfortClean: •
Removable milk pipework: •
Removable brew unit: •
Adjustable water hardness: •
Efficiency and sustainability
Energy-saving Eco mode option: •
Night switch-off: •
Networking of domestic appliances
SuperVision: •
Safety
System lock: •
Water protection system: •
Technical data
Niche width in mm: 560-568
Niche height in mm: 450-452
Niche depth in mm: 500
Appliance width in mm: 595
Appliance depth in mm: 487
Applicance height in mm: 452
Depth with door open in cm: 106,0
Fuse rating in A: 10
Voltage in V: 220-240
Total connected load in kW: 2,3
Number of phases: 1
Length of electrical cable in m: 2,0
Accessories supplied
Milk flask - glass: •
Milk flask - compact closure: •
Descaling agent: •
Cleaning tablets: •
Milk pipework cleaner: •
Coffee spoon for ground coffee: •
Test strips to test water hardness: •
Brick-And-Mortar
Throughout the years, we have earned our solid reputation by insistence on providing the best quality products at the best deals. Over thousands of home and kitchen appliances are displayed in BBE's showrooms in Mong Kok, Causeway Bay and Tuen mun.
Best Price
We made nearly 20,000 real online deals in Hong Kong's top one price comparison shopping website "PRICE.COM.HK". We guarantee best price for customers and have been accredited as "5-Star Merchant" in the home and kitchen electrical appliances category.
Safety Purchase
We value our data security the most. Our Website has applied with SSL certificate,which makes it more secure than others。Despite from bank transfer, online customer can choose to pay by credit card via PayPal gateway.
Powerful Online Popularity
BBE has been honored the "Trustworthy Electrical Appliances Online Sales Award" for 3 consecutive years. Organized by "Discuss.com.hk Limited", winners of the award were selected by Hong Kong internet users under "one man, one vote" system.
Authorized Dealer
We are authorized dealer for all our products. All products can enjoy at least 1 year factory warranty and 7 days damage product exchange guarantee. We also provide delivery & installation service, you can check our installation price list for detail.