German Pool IRC-501 IH Pressure Rice Cooker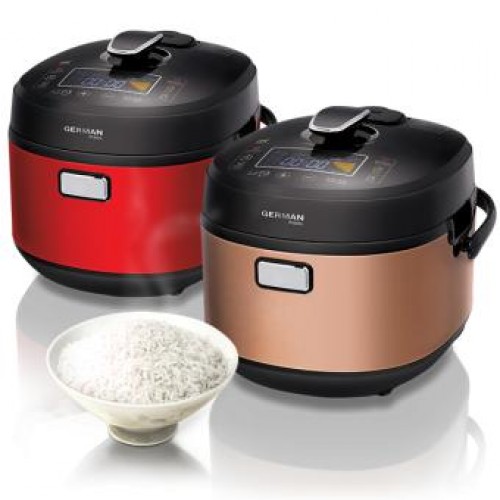 Electromagnetic Induction Heating Technology. Induction Heating (IH) + Pressure Cooking. The heating element extends and surrounds the inner pot, offering direct and all-around heating through heat convection. Using the same principle as pressure cooker, steam generated during heating increases pressure and temperature to enhance heat convection for a better cooking effect.
Precise control over temperature and heating power
Pre-set Cooking Time for creating delicious meals
Special Open-Cover Operation to give more cooking variations
Chic streamline design suitable for the modern home
Whitford USA Wavy Diamond Non-Stick Coating. The inner pot is coated with USDA and FDA approved wavy diamond non-stick coating by Whitford USA. It is durable, heat-retaining, scratch-proof and easy-to-clean. Made up of premium stainless steel and aluminium, the 4-ply coating increases the efficiency of the heating process.
1:1 Golden Ratio.With German Pool IH Pressure Rice Cooker, simply follow the 1:1 Golden Ratio and add 1 cup of rice and 1 cup of water using the specially designed measuring cup, and you can easily make the perfect rice with the desired fluffiness and texture. It's that simple!
Rice Cooking Modes:
Rice
Coarse Cereals
Rice Crust
Pilaf
14 Cooking Modes
Specifications:
Sub Model:IRC-501GD / IRC-501RD
Voltage:220 V
Power:1,250 W
Inner Pot Material:Stainless Steel 430 + Aluminium
Coating Material for Inner Pot (Outer surface):Non-stick
Coating Material for Inner Pot (Inner surface):Nano-ceramic
Capacity:5 L
Colour:Black + Gold / Black + Red
Dimenstions of Inner Pot: (Ø)217 mm
Dimensions:(H) 296 (W) 316 (D) 405 mm
Packing Dimensions:(H) 345 (W) 360 (D) 456 mm
Net Weight:7.5 kg
Gross Weight With Packing (KG):8.6 kg
Maximum Pressure:70 kPa
Operating Pressure:0-70 kPa
Warm Keeping Range:60-80 °C
Timer Setting Range:0-24 hrs
Built-in Functions:18 Modes
Warranty Term:1 Year