German Pool PAM-281 Dough & Noodle Maker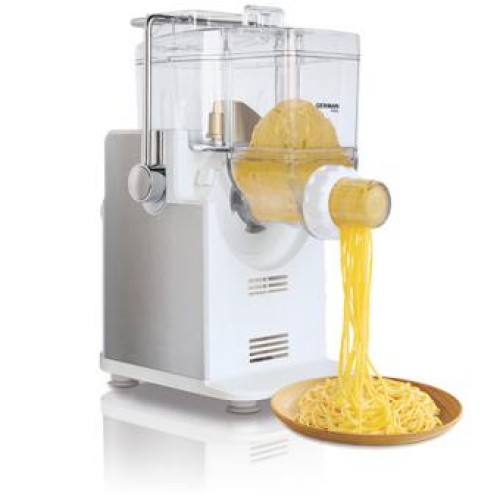 Fresh noodles ready in 6 mins
6 cutting cups for different noodle shapes
360°hand-kneading
Patented vertical extrusion design
Quick and easy to operate and clean
2-in-1 Design Straight from Dough to Bowl. The 2-in-1 knead-and-extrude design allows noodles and dough to be made separately. One dough, many loaves.
User-Friendly Control Panel. The newly designed control panel offers straightforward and convenient operation. It just takes a few easy steps to make any delicacies imaginable.
Safety Bracket. The Safety Bracket has to be securely fastened to the Top Cover before operation.
Full Set of Accessories. Automatic Dough and Noodle Maker comes with two measuring cups, a cutter, a spanner, a brush, and six nozzles to maximize your noodle making fun.
Specifications:
Sub Model:PAM-281SV (Sliver)/PAM-281GD (Gold)
Voltage:220-240 V(China 3C version: 220 V)
Power:180 W
Colour:Silvery Grey Stainless Steel/Gold Stainless Steel
Included Accessories:Flour Measuring Cup, Water Measuring Cup, Nozzles (6pcs), Cutter, Spanner, Brush, Cookbook
Pasta Cutting Cup:Hollow Nozzle, Flat Thin Nozzle,Flat Broad Nozzle, Zigzag Nozzle,Small Cylindrical Nozzle,Cylindrical Nozzle
Capacity: Extrusion Chamber 250 g
Capacity: Kneading Chamber 400 g
Max. Flour Capacity Per Cycle:400 g
Dimensions:(H) 360 (W) 150 (D) 300 mm
Packing Dimensions:(H) 402 (W) 212 (D) 360 mm
Net Weight:4.2 kg
Gross Weight With Packing (KG):5.1 kg
Timer Setting Range:1-20 mins
Display:Digital
Control Panel:Soft-Touch Buttons
BPA-free:Yes
Warranty Term:1 Year