German Pool KQB-315 3D Infrared Korean Barbecue Grill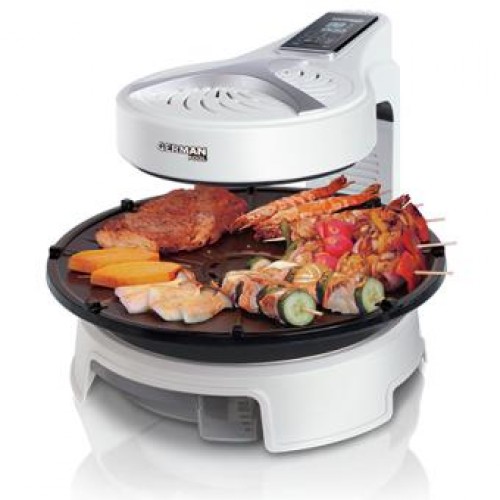 Automatic 360° rotational grill pan. The 360° auto-rotate grill pan grills the food evenly. What's more, the automatic rotation makes sharing of food more convenient, and more fun!
120° wide-angle heating swing arm. The mobile heating arm can be rotated 60° left or right for easy addition or retrieval of food. When the heating arm is displaced, heating automatically stops, and resumes when the heating arm returns to its original position.
Heating inverter system enables low temperature cooking
Three-way efficient heating
'Sun-ray' ridged non-stick Teflon grill pan
Halogen 3-way efficient heating. Infrared rays rapidly cook by way of heat conduction, convection and direct heat penetration. The excess fat in the food is forced out, waiving the need for additional cooking oil. What's more, this way of cooking emits no harmful radiation in the process!
Innovative Oil Drainage & Fumeless Design. The sun-ray ridges on the grill pan guides away the excess fat into the oil reservoir beneath the grill pan for healthier cooking and easier cleaning. The location of the upper heating element prevents excess fuming.
The use of an upper element prevents fuming, which makes this indoor barbecue experience all the more cleaner and healthier.
Detachable Oil Reservoir
Touch Screen Control Panel
Specifications:
Sub Model:KQB-315BK / KQB-315WT
Voltage:220-240 V
Power:1500 W
Colour:Black / White
Dimensions:(H) 286 (W) 470 (D) 360 mm
Packing Dimensions:(H) 327 (W) 500 (D) 386 mm
Net Weight:3.45 kg
Gross Weight With Packing (KG):4.9 kg
Warm Keeping Range:80 ~ 280 °C
Time Setting Range:0-99 mins
Control Panel:Touch Screen Control Panel
Warranty Term:1 Year