Liebherr SBSes7252 Premium NoFrost Side-by-Side Refrigerators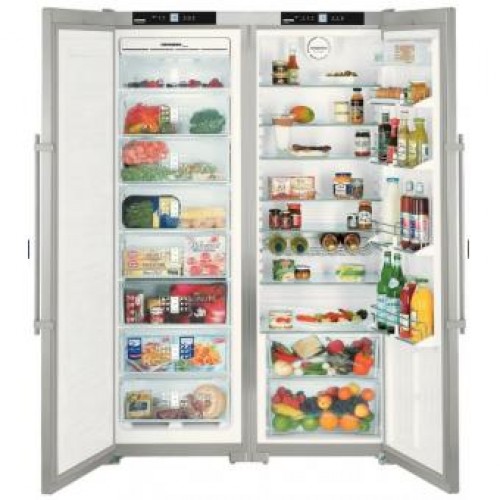 NoFrost
Liebherr's NoFrost appliances provide expert refrigeration technology to ensure long-term freshness. The food is frozen with chilled recirculating air, and any humidity is expelled. As a result, the freezer is always free of ice, and food no longer frosts over. NoFrost convenience makes defrosting a thing of the past.
DuoCooling
Accurate and independent temperature control of the refrigerator compartment and freezer compartment of combined fridge-freezers is achieved through DuoCooling with two completely separate cooling circuits. And there is no air exchange between the refrigerator and freezer compartment. This prevents odour transfer and stops the stored food from drying out.
SmartSteel
Nearly all the stainless steel doors come with a SmartSteel surface. SmartSteel significantly reduces the visibility of finger marks. Thanks to the high-quality finish of the stainless steel, the surface is very easy to clean and is also far more scratch-resistant.
LED freezer compartment lighting
The innovative LED lighting in the front housing of the GNP models ensures that the extended freezer drawers are optimally illuminated to provide a perfect overview. In the CBNes 5167 freestanding combined fridge-freezer, this feature is located in the underside of the refrigerator compartment door. The two NoFrost freezer drawers of the CNes 6256 Frenchdoor fridge-freezers are illuminated by powerful LED strips for a sophisticated lighting atmosphere and a perfect view of the food stored inside. The LED light sources are flush-fitted into the appliance cross connectors, and therefore no storage space is lost in the freezer compartment.
PowerCooling system
The high-performance PowerCooling system rapidly cools down freshly stored food and creates an even cooling temperature throughout the interior. A door contact switch turns the fan off when the door is opened.This saves valuable energy.
GlassLine interior
The sophisticated GlassLine safety glass equipment puts the finishing touches to the overall impression of high quality conveyed by the interior. The elegant GlassLine storage shelves are shatter-proof, scratch-resistant and easy to clean. The high-quality stainless steel trims put the finishing touches to the overall design composition. The slide under half shelf option glass shelf lends itself to versatile use.
Bottle rack
The bottle rack is a solution for storing beverages which is both practical and pleasing to the eye. Here bottles can be stored within a compact space.
Child lock
The child lock is programmed so as to prevent the appliance being inadvertently switched off.A symbol in the MagicEye indicates when the child lock is switched on.
Automatic SuperFrost function
The automatic SuperFrost function makes freezing simple and saves energy. It quickly reduces the temperature to -32 °C and thus creates the cold air required to preserve vital vitamins. As soon as the food is completely frozen, the automatic SuperFrost function switches back to normal mode after max. 65 hours, and thus assists in saving electricity.
FrostSafe
With the FrostSafe, the extra-high and removable drawers are closed all round. This means that the cold cannot dissipate so quickly when the appliance is opened. The transparent front of the compartments guarantees an optimum overview of the frozen items.
SuperCool
The automatic SuperCool function lowers the refrigerator temperature down to as far as +2 °C for as long as 12 hours - ideal for rapidly cooling freshly stored food.
VarioSpace
All freezers with NoFrost and SmartFrost feature drawers and intermediate glass shelves underneath them which can be conveniently removed.This results in VarioSpace – the practical system for extra storage space so that space can be created quickly even for larger frozen food items.
Door alarm
The audible door alarm alerts the user if the door has been open for longer than 60 seconds for safe protection of the food.
Transparent vegetable bins
Transparent vegetable bins provide plenty of space for the organised storage of fruit and vegetables. In addition, they are easy to clean.
FrostControl
In the event of a power failure, the FrostControl display indicates the warmest temperature that was reached in the freezer compartment.This helps to assess the quality and projected storage life of the frozen goods that were affected bythe power failure.
SwingLine-Design
Nearly all the refrigerators and freezers feature a design with elegant side-edge relief. The embossed Liebherr logo on the door puts the fi nishing touch to the timeless elegance of the SwingLine design.
Output and consumption
Energy efficiency class *
A++/A++
Energy consumption in 24h *
0.988 kWh / 24h
Energy consumption per year *
361 kWh/a
Net capacity, total
648 l
Refrigerator compartment
391 l
Freezer compartment
257 l
Gross capacity, total
709 l
Refrigerator compartment
405 l
Freezer compartment
304 l
Connection rating
2.5 A 259 W
Dimensions and weight
Exterior dimensions (H/W/D)
185.2 / 121.0 / 63.0 cm
Height / Width / Depth (with packaging)
1,909.0 / 1,230.0 / 709.0 mm
Weight (without packaging)
155.7 kg
Weight (with packaging)
165.0 kg
Control and functions
Control
Digital temperature display in the MagicEye
Control unit
Touch-Elektronic
Individual temperature zones
2
Temperature display
Refrigerator- & freezer compartment
Temperature range wine storage compartment
-
Malfunction: Warning signal
optical and acoustical
Door open: Warning signal, refrigerator compartment
audible
Door open: Warning signal, freezer compartment
audible
Door open: Warning signal, wine storage compartment
-
SuperFrost
quantity-controlled
Refrigerator compartment
Defrosting method
automatic
Lighting
LED ceiling light
Number of storage shelves, refrigerator compartment
7
of which height-adjustable
6
of which is/are sectioned
1
Storage shelf material, refrigerator compartment
glass
Bottle shelf
bottle shelf
Design of inner door rack
Premium GlassLine
Number of BioFresh safes
0
extendible on telescopic rails
—
of which on telescopic rails
2
of which on pull-out rollers
0
Freezer compartment
Cooling technology
NoFrost
Defrosting method
automatic
Storage time during interruptions in power supply
24 h
Freezing capacity in 24 hrs
20 kg
Drawers in freezer compartment
8
Storage shelf material, freezer compartment
glass
Cold storage accumulators
2
IceMaker (can be deactivated)
-
Design and materials
Door design
SwingLine design
Door/Cover material
stainless steel door with SmartSteel
Side wall material
stainless steel
Handle
Stainless steel slimline door handle with integrated opening mechanism
Set-up and installation
Door hinges
left fix/right fix
Transport castors at back
✔
Transport handles at back
✔
Flush with wall and with front ventilation, suitable for installation in a row of kitchen units
✔
Brick-And-Mortar
Throughout the years, we have earned our solid reputation by insistence on providing the best quality products at the best deals. Over thousands of home and kitchen appliances are displayed in BBE's showrooms in Mong Kok, Causeway Bay and Tuen mun.
Best Price
We made nearly 20,000 real online deals in Hong Kong's top one price comparison shopping website "PRICE.COM.HK". We guarantee best price for customers and have been accredited as "5-Star Merchant" in the home and kitchen electrical appliances category.
Safety Purchase
We value our data security the most. Our Website has applied with SSL certificate,which makes it more secure than others。Despite from bank transfer, online customer can choose to pay by credit card via PayPal gateway.
Powerful Online Popularity
BBE has been honored the "Trustworthy Electrical Appliances Online Sales Award" for 3 consecutive years. Organized by "Discuss.com.hk Limited", winners of the award were selected by Hong Kong internet users under "one man, one vote" system.
Authorized Dealer
We are authorized dealer for all our products. All products can enjoy at least 1 year factory warranty and 7 days damage product exchange guarantee. We also provide delivery & installation service, you can check our installation price list for detail.