Siemens KA92NVI35K IQ300 Side-by-Side Refrigerators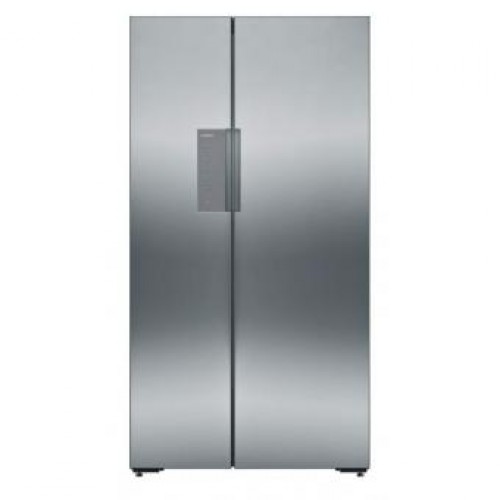 side by side fridge freezer with innovative noFrost technology for no more defrosting and high storage capacity.
Fruit and vegetables stay fresh for longer in the hyperFresh drawer thanks to the humidity slider
An A++ cooling appliance works very efficiently.
The LED lights up the interior brightly and evenly, without dazzling.
Energy Efficiency Class: A++
Energy consumption: 389 kWh/yr
Total net capacity: 604 litres
Noise level: 43 dB
Staineless steel anti-fingerprint door, Metallic chrome casing
Integrated vertical handle
Interior LED lighting
noFrost
Twin LED electronic control
Super cool function
Super freeze function
Freezer malfunction warning signal: Optical and acoustic warning system
Optic and acoustic Warning System
Optical and accoustic door open warning system
Holiday mode
Net fridge capacity: 387 litres
multiAirflow
4 safety glass shelves of which 3 are height adjustable
Dairy compartment
2 door shelf large, 2 door shelf small
Freezing capacity: 12 kg in 24 hours
Storage time in power failure: 12 H
4 Safety glass shelves, 2 are height adjustable
Vegetable drawers with telescopic rail
5 door trays in freezer section, removable and easyLift
Easy twist ice box
LED illumination
Door left hinged, Door right hinged
Door-closing aid
Connected load: 190 W
220 - 240 V
Dimensions: 175.6 cm (H) x 91 cm (W) x 72.5 cm (D)
Total gross capacity: 659 l
Gross fridge capacity: 407 l
Gross capacity of freezer: 252 l