Samsung RS58K66677P/SH 575L Side by Side Refrigerator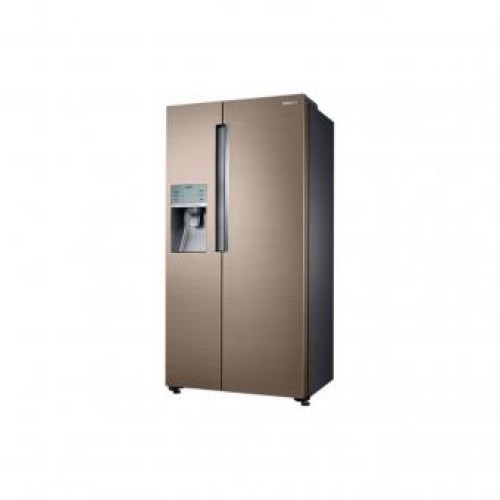 Ideal humidity care for food
Twin Cooling Plus™ cools the fridge and freezer compartments separately. Independent evaporators and cooling systems ensure the ideal environment, with high humidity and no mixing of odors, so food stays fresher.
Holds in cold for freshness 
The Metal Cooling guard retains the cold and helps to restore heat loss, so food is preserved better and stays fresh, even if you frequently open the door. And it adds a premium look and easily wipes clean.
Precisely maintains freshness 
To keep food fresh for longer Precise Chef Cooling technology minimizes any temperature fluctuation to within just ±0.5°C* by frequently sensing changes and then precisely controlling the operation of the compressor. 
Easily install anywhere
Has a 4.5 liter water tank for its Ice & Water dispenser, so it can be installed anywhere without plumbing. Add mineral or fresh water to enjoy chilled drinks or ice, without worrying about its quality or filters.
Move your food – anywhere 
A Lock N Move Tray is airtight and movable and fits on rails, so you can easily reach your favorite things in the fridge or freezer. It's ideal for storing and defrosting meat in the fridge or preserving dried food, like tea in the freezer.
More space to store more food 
Has a very spacious interior with a huge 575 liter capacity. There's plenty of room to store your weekly groceries and it's much easier to keep everything neatly organized, so you can quickly find things you need.
Keeps air hygienically clean 
Active Fresh Keeper keeps the fridge clean and hygienic. Air is passed through an Activated Carbon filter, so it is constantly deodorized, while an anti-bacterial mesh eliminates bacteria.
Slimmer lighting, softer light 
All new LED lighting is slimmer, softer and more energy efficient. It creates more fridge space, but brilliantly illuminates every corner with brighter and softer lighting, while saving money on electricity bills.
Capacity 
Gross Total  636 ℓ
Net Total  575 ℓ
Net for Freezer  180 ℓ
Net for Fridge  395 ℓ
Cooling Feature 
No Frost  Yes  
Multi Flow  Yes
Cooling Type  Twin & Metal Cooling(Duct)
Refrigerator Feature 
Number of Shelf (Total)  4 EA
Number of Door Pocket  5 EA
Big Guards  Yes
Sealing Guard  Yes
Egg Container(Egg Tray)  Yes
Lock N Move Tray  Yes
Anti-Bacteria  Yes
Shelf Material  Tempered Glass
Number of Vegetable&Fruit Drawer  2 EA
Interior Light  LED(Top)
Freezer Feature 
Number of Shelf (Total)  4 EA
Number of Door Pocket  3 EA
Icemaker  Auto IM
Interior LED Light  LED(Top)
Number of Drawer  2 EA
General Feature 
Door Alarm  Yes
Refrigerant  R600a
Exterior Feature 
Display Type  Hot stamping
Door Handle  Recess
Color+  Refined Gold
Dispenser Type  I&W Dispenser (Non-Plumbing)
Performance 
Energy Efficiency Class  A+
Vacation Mode  Yes
Physical specification 
Net Width(mm)  908 mm
Net Case Height with Hinge(mm)  1825 mm
Net Depth with Door Handle(mm)  721 mm
Net Depth without Door Handle(mm)  721 mm