Gorenje W8844I 8kg 1400rpm Freestanding Front Load Washing Machine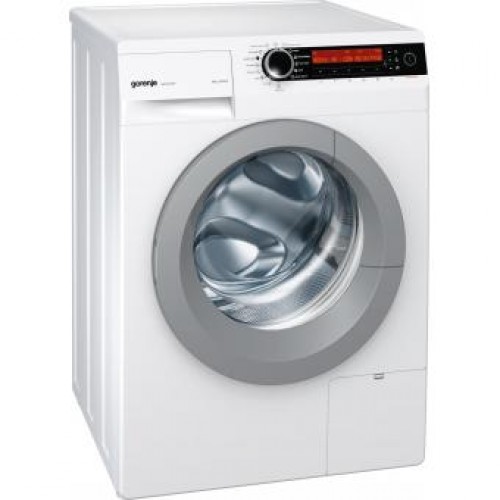 SensoCare technology:
Perfection in washing
SensoCare technology makes sure every type of fabric is washed in the best possible way. It always delivers the optimum combination of temperature and amount of water, time, and spinning speed. If, however, your clothes need a very special care, the cotton and synthetic fibre programmes can be tweaked with extra modes and functions. NormalCare selects the optimum combination of all four parameters for each load of laundry; TimeCare reduces the washing time; AllergyCare uses more water and extra rinse cycles; and EcoCare is the most energy-efficient washing mode.
TotalWeightControl:
Superior washing results regardless of the amount of laundry
The sensor adjusts all washing parameters to the amount of laundry in the drum. This leads to optimum use of water and power, shorter wash, and considerably quieter operation. A full basket of laundry, no matter how large, will be clean and pleasantly smelling.
StainExpert:
An expert targeting the stains
Effective removal of stains no longer requires high temperature or additional treatment of clothing before the wash. The perfect combination of temperature, time, and water will automatically remove four types of stubborn stains: fruit (oranges, tomato sauce); organic stains (fat, butter, eggs, grass); wine (dark fruit juices, ink); and coffee (tea, yoghurt, pasta, make-up). The StainExpert function is available in the Superior washing machines.
SpaDrum:
Total laundry care
The SensoCare washing machine drum is made from the best quality stainless steel with exceptionally smooth surface. Therefore, the laundry is thoroughly washed, rinsed, and spun without any damage.
SoftSound operation, user-friendly acoustic signals:
In addition to exquisite design, Gorenje washing machines feature a pleasing sound. Beeps and high quality speakers make use of a washing machine even more enjoyable. Particular attention is given to programs and motion selector function buttons, detergent dispenser and the door.
SterilTub:
The solution for pleasantly smelling laundry
This programme makes sure the washing machine interior stays perfectly clean and sterile, allowing a pleasant smell of the laundry. Washing with washing powder at lower temperatures may lead to ideal conditions for development of bacteria which in turn could cause a foul smell of your laundry. The SterilTub works with the drum empty and eliminates any bacteria from the machine interior.
QuickWet: intensive soaking system:
Extremely fast laundry wetting and shorter programme duration
Extremely fast laundry wetting and shorter programme duration. QuickWet intensive soaking system allows introducing water, combined with the detergent, into the drum simultaneously from the bottom and the top of the drum. Thus, the laundry is soaked sooner and washing programme is shorter which saves power.
DuraHeat:
Safe and durable heater
The redesigned and improved heater includes an overheating protection system. This extends its useful life and makes washing machine operation safer.
DetergentSaving:
The system prevents loss of detergent during water supply. This reduces the use of detergent by up to 20% and thus also reduces the impact on the environment.
fiber:
Machine stability during operation. Stability control system will make sure the load is distributed evenly in the drum. If the stability control sensor perceives an imbalance, drum rotation will be stopped to allow more even redistribution of the laundry.
Technical details:
Energy class: A+++(-10%) - 40% less energy consumption as A energy class
Colour: White
Washer load: 1-8 kg
Standard collector motor
SensoCARE
StainExpert
Special drum construction SpaDrum
Spin speed: 1,400 rpm
Washer load: 1-8 kg
Drum volume: 64 l
Drum illumination with LED light
Type of display: LCD display
TimeComfort
Presetting time delay of start
Adjustable spin speed
Temperature setting
Preset washing EndTime
Cold wash: Button
Personal settings for all programmes
31 programmes
Special programs: BioWash / MyFavorite / NightWash / PerfectBlack / SportWash
Prewash
Ability to create own programmes: Memory program
Audio signal SoftSound
Self cleaning program SterilTub
Pump STOP
SensorIQ - sensor technology
Automatic recognition of laundry weight TotalWeight
QuickWet
ECOSystem
Durable heater DuraHeat
Total Aqua STOP
Overflow protection
Child protection (CDP)
Stability Control (SCS)
FiberTech
Annual water consumption: 10,309 l
Noise level washing: 56 dB(A)re 1 pW
Noise level spinning: 73 dB(A)re 1 pW
Dimensions of the product (W×H×D): 60 × 85 × 60 cm
Dimensions of packed product (W×H×D): 64 × 92 × 68.5 cm
Net weight: 83 kg
Gross weight: 85 kg
Consumption in standby mode: 0.07 W
Connected load: 2,300 W
Nominal current of fuse: 10 amp
Code: 356678
EAN code: 3838942764943
洗衣機屬性
Energy label
Grade 1
Spin speed
1400rpm
TYPE
Front Loaded Washers
Washing load
8kg
Brick-And-Mortar
Throughout the years, we have earned our solid reputation by insistence on providing the best quality products at the best deals. Over thousands of home and kitchen appliances are displayed in BBE's showrooms in Mong Kok, Causeway Bay and Tuen mun.
Best Price
We made nearly 20,000 real online deals in Hong Kong's top one price comparison shopping website "PRICE.COM.HK". We guarantee best price for customers and have been accredited as "5-Star Merchant" in the home and kitchen electrical appliances category.
Safety Purchase
We value our data security the most. Our Website has applied with SSL certificate,which makes it more secure than others。Despite from bank transfer, online customer can choose to pay by credit card via PayPal gateway.
Powerful Online Popularity
BBE has been honored the "Trustworthy Electrical Appliances Online Sales Award" for 3 consecutive years. Organized by "Discuss.com.hk Limited", winners of the award were selected by Hong Kong internet users under "one man, one vote" system.
Authorized Dealer
We are authorized dealer for all our products. All products can enjoy at least 1 year factory warranty and 7 days damage product exchange guarantee. We also provide delivery & installation service, you can check our installation price list for detail.