GAGGENAU WM260162 9kg 1600rpm Front Loaded Washing Machine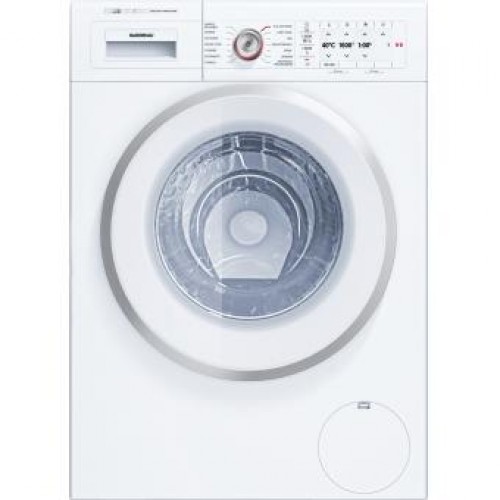 Main facts:
Intelligent dosage system iDos for automatic in-flow control of liquid detergent and softener
9 kg drum with interior lighting
Large porthole with 180 ° door opening angle
Innovative BLDC motor technology for more performance, higher durability as well as less energy consumption and noise
Anti-stain automatic for stain specific programme cycles
Can be perfectly combined with WT 260 100
Energy efficiency class A+++ (-30%)
Handling:
Electronic control.
Illuminated rotary knob with integrated On-Off switch.
Touch key operation.
TFT display with clear text and symbols.
Loading indicator with dosage recommendation.
Programme sequence and remaining time display.
Time delay up to 24 hours.
Multiple signal tones.
Technical Features:
Aqua sensor.
Aqua stop with guarantee.
Flow-through sensor.
Anti-stain automatic.
Continous automatic load adjustment.
Foam detection system.
Spin speed selection from 400 to 1600 rpm.
Top-up function.
Automatic stabilisation.
Anti-crease system.
Child lock.
Programmes:
Cottons, cold to 90 °C.
Easy care, cold to 60 °C.
Quick/Mix, 40 °C.
Delicates/Silk, cold to 40 °C.
Wool, cold to 40 °C.
Lingerie.
Towels.
Automatic.
Hygiene.
Super 15/30.
Outdoor.
Downs.
Shirts/blouses.
Additional programmes: Curtains, Night programme, Drum clean, Rinse, Spin, Soft Spin, Empty.
Features:
Powder detergent drawer with automatic cleaning mode after every wash cycle.
2 iDos tanks with 1.3 and 0.5 l capacity for liquid detergent or softener.
Stainless steel drum with wave structure.
Drum interior lighting.
Volume capacity from 1 to 9 kg.
Consumption data:
Energy efficiency class A+++ (-30%).
Water consumption 11220 l/year.
Energy consumption 152 kwh/year.
Connection:
Total connected load 2.3 kW.
Connection cable 2.10 m with plug.
Water connection with 3/4 " screw joint.
洗衣機屬性
Spin speed
1600rpm
TYPE
Front Loaded Washers
Washing load
9kg