GAGGENAU RF413300 Vario Freezer with 1-door, dispenser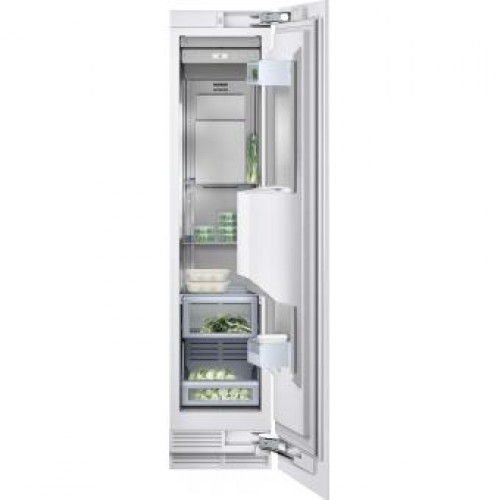 Main facts:
Stainless steel interior
Generous lighting concept
Integrated ice maker with fixed inlet water connection
Illuminated dispenser for ice cubes, crushed ice and chilled water
Solid aluminium door racks
Net volume 198 litres
Energy efficiency class A+
Handling:
Electronic temperature control with digital display.
Features:
Dynamic cold air distribution.
Automatic defrosting with defrost water evaporation.
Energy-saving vacation mode.
Open-door and malfunction alarm.
Freezing:
No-frost technology with fast freezing.
Temperature adjustable from -14 °C to -25 °C.
4-star freezer compartment.
Freezing capacity 9 kg/24 h.
Storage time after a malfunction 9 h.
4 solid metal shelves, 2 of which are manually adjustable.
2 fully extendable drawers with transparent front, 1 of which large, 1 regular.
Bright interior lighting with light pillars.
1 extra deep door rack.
1 door rack with transparent front flap.
Ice and water dispenser:
Illuminated.
Integrated, with fixed inlet water connection.
Can be switched off.
Ice cube production approx. 1.9 kg/24 h.
Ice cubes and crushed ice.
Removable ice storage container with approx. 3 kg capacity.
Ice water supply approx. 1.5 litres.
Product rating:
Energy consumption 299 kwh/year.
Noise level 41 dB (re 1 pW).
Connection:
Total connected load 0.55 kW.
Connecting cable 3.0 m, pluggable.
Water inlet.
Supply hose 2.0 m with 3/4 " connection.
Water pressure 2.4 to 8.3 bar.