MIELE DG6401 CleanSteel 嵌入式電蒸烤箱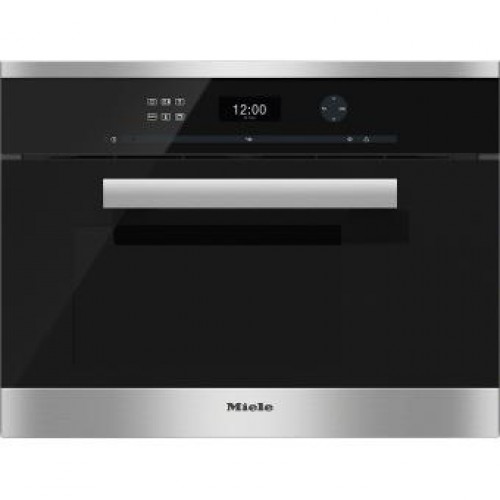 Built-in steam oven
Intuitive and easy to use with plain text display and touch control.
Perfect results thanks to MultiSteam technology
Simultaneous cooking on 3 levels without flavour transfer
Very versatile and efficient thanks to extra large tray size
Success guaranteed - Automatic programmes
Intuitive and simple - DirectSensor
MultiSteam
Perfection just as you like it
Success guaranteed: fast and even distribution of steam in the cabinet and around cooking containers.
Large cooking compartment and large tray size
Using the entire depth: its easy to cook large quantities at once which saves time and energy.
Simple cleaning
No limescale: thanks to external steam generation cleaning is quick and easy.
Lightweight water container
Simple handling: the transparent plastic water container makes refilling nice and easy.
Steam reduction
Safe and convenient: you can open the door and remove food immediatelywithout steam bellowing out.
Recommended temperatures
Decision making made easy: The recommended temperature will appear in the display.
Individual settings
You decide: Language, buzzer tones, display brightness and much more can be individually adjusted.
Cooking on three levels
Saving time and electricity: simultaneous cooking of different types of food without the transfer of flavours.
Wide range of accessories
For all your cooking needs: Miele offers a wide range of accessories for your steam oven.
User programmes
For your favourite dishes: simply set operating mode, temperature and duration and save for repeated use.
Timer function
Always on time: starting time, finishing time and duration of the cooking process are easy to select.
Sous-vide cooking
The ultimate taste sensation: meat, vegetables, fruit or fish that have been cooked under vacuum.
Compartment lighting and clear view door
Visible at a glance: New for Miele steam ovens - cooking compartment lighting and door with viewing screen.
Appliance cooling system and cool front
Maximum protection: all surfaces of and around the appliance remain cool, which offers protection against burns.
Safety functions
Your guardian angel: If you forget to switch off the appliance, the safety switch-off steps in for you.
Electronic temperature control
Automatic monitoring: the temperature selected is constantly monitored and maintained.
Gourmet Versatility:
-Blanching
Perfect retention of quality: Blanching is used to prepare vegetables and fruit for freezing and bottling.
-Vegetables
Nature at its best: Gentle cooking in the steam oven retains flavour and is also very healthy.
-Heating damp flannels
Perfect hospitality: flannels can be steamed and offered to guests at the end of the meal.
-Juicing
Home-made fruit juice and jelly: gentle juice extraction using steam.
-Skinning
Skinning made fast and simple: Tomatoes, nectarines, almonds and much more in just 1-4 minutes in the steam oven.
-Sterilisation
The perfect method for bottling: jars are perfectly sterilised for the preservation of fruit, etc.
-Bottling
No monitoring necessary: particularly convenient for preserving fruit, vegetables, meat and sliced meats in a steam oven.
-Dessert
Sweet temptation: the steam oven can be used to make all sorts of delicious desserts.
-Making yoghurt
Always fresh, always delicious: yoghurt is easy to make in a steam oven in just 5 hours at 40 °C.
-Soups
A popular starter: all sorts of soups can be made in the steam oven for a tasty starter.
-Sous-vide cooking
The ultimate taste sensation: meat, vegetables, fruit or fish that have been cooked under vacuum.
-Heating
Tastes freshly cooked: For dishes that are reheated in approx. five minutes at 80 °C to 100 °C.
-Proving yeast dough
Soft bread and delicious cakes: It also has all-round talent - leave yeast dough to prove at 40 °C.
-Keeping warm function
Delays are no problem: Dishes are automatically kept warm in the steam oven for up to 15 minutes.
-Melting chocolate
No burning or lumps: chocolate melts to perfection at 90 °C.
-Fish/seafood
Good for body and soul: Fish is cooked precisely in the steam oven and retains its flavour.
-Meat
Particularly tender and juicy: most nutrients in the meat are retained when cooked in the steam oven.
-Side dishes
Simply indispensable: Potatoes, rice and pasta are an extremely nutritious part of any meal.
-Cooking eggs
The perfect breakfast egg: Soft, medium or hard in only four to 10 minutes at 100°C.
-Disinfecting baby bottles
Bacteria-free in only 15 minutes: Quick and uncomplicated disinfection of baby bottles at 100 °C.
-Defrost
Gentle on frozen food: Frozen food is gently defrosted under optimum conditions at approx. 60°C.
Design
PureLine: •
Colour: Stainless steel/Clean Steel
Display: DirectSensor
Convenience features
Electronic temperature control with steam oven operation 40 to 100°C: 40 - 100
External steam generation: •
Menu cooking without transfer of taste: •
Automatic programmes with individual setting of the cooking result: •
Keep-warm function: •
Operating modes
Defrost: •
Automatic programmes: More than 75
Steam cooking: •
Sous-vide: •
Reheating: •
Special applications: •
User convenience
Individual language selection: •
Direct selection of operating modes: •
Steam cooking on up to 3 levels at the same time: •
Quantity-independent cooking: •
Steam reduction before end of programme: •
Time of day display: •
Date display: •
Minute minder: •
Time buffer in h: 200
Start-stop programming: •
Automatic switch-off: •
Actual temperature display: •
Recommended temperatures: •
Audible signal when desired temperature is reached: •
User programmes: 20
Individual settings: •
Door
CleanGlass door: •
Door with viewing screen: •
Door hinge side: Bottom
Cavity
Cavity volume in l: 38
Stainless steel cavity: •
No. of rack levels: 4
Tray size per rack level: 1/3 GN + 1/2 GN
Removable stainless steel side racks: •
MultiSteam module with LED lighting: •
Cleaning convenience
Stainless steel front with CleanSteel surface: •
External steam generator: •
Floor heater element for condensate reduction: •
Quick-release side racks: •
Automatic descaling: •
Steam technology and water supply
MultiSteam: •
Water reserve for approx. 90 min cooking: •
Fresh water tank: •
Safety
Appliance cooling system with cool front: •
Safety cut-out: •
System lock: •
Vapour cooling system: •
Door contact switch: •
Technical data
Niche width in mm: 560-568
Niche height in mm: 450-452
Niche depth in mm: 550
Appliance width in mm: 595
Appliance height in mm: 456
Appliance depth in mm: 572
Weight in kg: 29,1
Total connected load in kW: 3,6
Frequency in Hz: 50-60
Voltage in V: 230
Fuse rating in A: 16
Number of phases: 1
Standard accessories
Stainless steel side racks: •
No. of perforated stainless steel containers: 3
Wire rack: •
Drip tray: •
Recipe book: •
Connection cable with plug: •
Descaling tablets: •
焗爐屬性
公升
30-39L
功能
蒸氣清洗
尺寸
60厘米
產地
德國
種類
純蒸爐
適用Amp數
20A或以上
門市經營
BBE優質倉一直以價格及口碑為經營重心,一點一滴累積發展至現在於旺角、銅鑼灣及屯門均設有大型門市,以陳列室形式展示過千款歐美日家庭及廚房電器。每間店鋪亦有專業電器顧問隨時為你度身選擇最適合產品。
至抵價錢
BBE於全港No.1格價網「香港格價網」(price.com.hk) 中有近2萬次真實顧客光顧,亦是少數取得當中最高評級-「五星級商戶」的電器經銷商,保證緊貼市價,並為顧客爭取最佳價格,讓你無需再四處逐一格價。
安全購物
資料保安是我們最重視的一環。BBE全網站均採用SSL技術加密傳送內容,比一般網站更能保障隱私及安全性。而網上客戶付款時除及選擇傳統銀行轉帳外,亦可使用由PayPal提供的信用卡線上付款通道,確保一切資料安全。
網絡至強
連續3年榮獲香港討論區頒發,經全港網民提名及以一人一票方式選出的「網上電器銷售信譽大獎」。BBE亦同時榮獲煤氣公司TGC 爐具銷售金獎。此外BBE與香港多間公私營機構均有合作,無論線上線下均提供最佳服務。
安心購買
BBE為各大電器品牌之授權經銷商,部份型號更為全港獨家經銷。於BBE購買之所有電器均保證為香港行貨,可享有最少一年的原廠保養及7天有壞換貨保證,並提供送貨安裝服務。安裝服務詳情可參閱「安裝價目表」。