MIELE G6990SCViK2O 洗碗碟機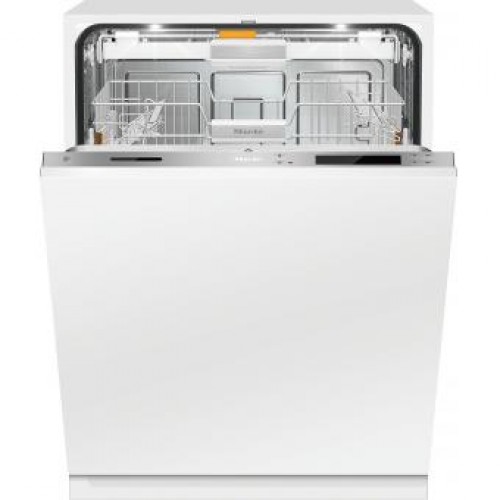 Fully integrated dishwashers
– the Miele all-rounder for handleless kitchen designs.
Automatic door opening after two knocks – Knock2open
Particularly economical with EU energy efficiency class A+++
Perfect results – only 6,5 l water consumption with Sensor wash
Perfect illumination for easy loading – BrilliantLight
Motorised door closing – AutoClose
Patented3 3D cutlery tray
Exceptional versatility and the best cutlery care
Even for bulky utensils: The height, width and depth of the patented cutlery tray can be adjusted.
Knock2open1
Unique: The appliance can integrate perfectly into handleless kitchens; the door opens automatically when tapped.
BrilliantLight2
Automatically controlled: Four LEDs bathe the entire dishwasher interior in brilliant light.
Patented4 AutoOpen drying
Everything perfectly dry: The dishwasher door opens automatically at the end of the washing programme.
AutoClose
A light touch is all it takes: With AutoClose the door closes on its own.
Superior energy efficiency
Best performance A+++: Highly economical, producing excellent cleaning and drying results.
Freshwater dishwashers - water consump. from 6.5 l
Minimum consumption: The Automatic programme ensures best cleaning results with minimum water consumption.
Miele basket design
Unique: The redesigned lower basket and the innovative upper basket offer a wide range of functions.
MaxiComfort basket design
Maximum flexibility for all types of crockery for perfect cleaning and drying results.
MultiComfort area in the lower basket
For all types of crockery: Even large pots/pans or bulky items fit easily in the versatile lower basket.
Ergonomic basket handles
Simplify your daily routine: The basket handles make loading and unloading easier.
Height-adjustable upper basket
Several options: On all Miele dishwashers, the upper basket is easily and variably height-adjustable.
Height-adjustable glassware rail for upper basket
Lots of glasses: The height-adjustable rail creates extra space in the top basket.
Hinged bottle holder
Absolutely secure: Even items such as vases can be thoroughly cleaned using the bottle holder.
Ideal for glassware
Optimal hold: A height-adjustable glass holder and support rail for glasses6 in the lower basket give protection.
TimeControl
A good overview: The remaining programme running time is displayed via four LEDs.
Touch on metal
Elegant and practical: Flush controls in the stainless steel fascia panel achieve a clean, linear design.
Delay start with integrated countdown indicator
Smart: The countdown indicator. Use delay start to set your dishwasher to start up to 24 h in advance.
Perfect GlassCare
Gently and with care: This technology ensures that your glasses are cleaned gently.
SensorDry
No more residue: The programme ensures that crockery is dry even in adverse conditions.
FlexiTimer with EcoStart
Clever: With EcoStart the dishwasher always selects the cheapest electricity tariff for you automatically.
Reduced load9
Full load not necessary: Automatic load recognition adjusts water and electricity consumption.
Hot water connection
Up to 50% electricity savings10: Every Miele dishwasher can be connected to a hot water connection up to 60 ̊C.
SmartStart
Practical: With this function the machine starts automatically when the electricity tariff is least expensive.
EcoFeedback
Wash aware: Select a wash programme and the estimated water and electricity consumption appear in the display.
The best noise levels
Barely audible: With low noise levels from 41 dB (A)11 and consistently perfect results.
Washing Programs & Options
-SolarSave
Second to none: Minimum electricity consumption with solar heat system, heat pump or gas-oil heating.
-ExtraQuiet
Extremely quiet: This programme washes with a barely audible noise level of only 38 dB (A).
-ECO
Extremely economical: The water and energy saving programme is perfect for mixed loads.
-Automatic
For crockery which is not sensitive to heat: For example mixed, everyday crockery with normal food deposits.
-Normal 55°C
Quick and effective: this programme for every day loads cleans normally soiled crockery thoroughly.
-Intensive 75°C
Maximum cleaning performance: Pots, pans, etc. are cleaned residue-free.
-Sensor wash gentle / Gentle
Gentle and with care: The programme cleans heat-sensitive crockery that is slightly dirty.
-Rapid 40°C
Short programme duration: Cleans mixed loads with fresh food deposits in only half an hour.
-Hygiene
Hygienically clean: Baby bottles, chopping boards, etc. are thoroughly cleaned and bacteria-free,
-Pasta/Paella
For dishes containing starch: residue from food like pasta or rice is removed thanks to the higher temperature.
-Tall items 65°C
For large, bulky items: Provides space for large, bulky items in the lower basket.
-Glasses warm
Sparkling results: this programme is ideal for cleaning beer glasses and guarantees perfect froth.
-Maintenance wash
Whenever needed: This programme cleans the dishwasher thoroughly - guaranteed.
-Short
Sometimes things have to be done fast: With the Short programme option you can reduce the cycle time.
-Energy save
Choose consciously: This option makes an additional reduction in electricity consumption possible.
-Extra dry
Guaranteed dry: With this option everything is dried perfectly, even glasses and plastic items.
-Intensive lower basket
Powerful and gentle at the same time: You can select this option for extra cleaning power in the lower basket.
-Pre-rinse
Improved cleaning: With this option easily released soiling is removed immediately at the start of the programme.
Type of appliance
Fully integrated dishwasher: •
60 cm dishwasher: •
Design
Colour: Stainless steel
Fascia panel version: Fully integrated fascia
Control type: Touch on metal
Display: 2-line top-edge text display
Display colour: White
Convenience
Knock2open: •
Door closing aid: AutoClose
Countdown indicator: •
BrilliantLight: •
Operating noise dB (A) re 1 pW: 41
Delay start up to 24 hours: •
TimeControl: •
In-operation indication: optical and acoustic
Add an item option: •
Choice of display language: •
Efficiency and sustainability
Energy efficiency class: A+++
Drying class: A
Water consumption in the ECO programme in l: 9,7
Electicity consumption in the ECO programme in kWh: 0,84
Annual water consumption in the ECO programme in l: 2.716
Annual electricity consumption in ECO prog. in kWh: 237
Water consumption in Automatic/Sensor wash programme in l: 6,5
Consumption value with hot water connection in ECO prog in kWh: 0,49
Power consumption in stand-by mode in W: 0,30
FlexiTimer with EcoStart: •
EcoFeedback: •
Hot water connection: •
Half load: •
Alternating spray arm technology: •
Gentle treatment of crockery and glassware
Mains water dishwasher: •
AutoOpen drying: •
SensorDry: •
Recirculation turbothermic drying: •
Perfect GlassCare: •
DetergentAgent: •
Dishwashing programmes
ECO: •
Automatic (Sensor wash): •
Intensive 75°C: •
Normal 55°C: •
Gentle: •
Quick wash 40 C: •
Hygiene: •
SolarSave: •
Extra quiet 38 dB (A): •
Pasta/Paella: •
Tall items 65°C: •
Glasses warm: •
Maintenance programme: •
Dishwashing options:
Short: •
Intensive lower basket: •
Energy save: •
Extra dry: •
Soak: •
Pre-wash: •
Basket design
Cutlery loading: 3D cutlery tray
Basket design: MaxiComfort
No. of standard place settings: 14
Appliance networking
Miele@home: Pre-equipped
SuperVision: •
MobileControl: •
SmartStart: •
Technology and quality
Sensor technology: AutoSensor
Electronic professional pump for variable spray pressure: •
Safety
Waterproof system: •
Check filter indication: •
Technical data
Niche width in mm: 600-600
Niche height in mm: 805-870
Niche depth in mm: 570
Appliance width in mm:598
Appliance height in mm: 805
Appliance depth in mm: 570
Appliance depth with door open in mm: 116,5
Net weight in kg: 47,0
Total connected load in kW: 2,1
Voltage in V: 230
Fuse rating in A: 10
Standard electrical frequency: 50
Number of phases: 1
Length of water inlet hose in m: 1,50
Length of water drain hose in m
: 1,50
Length of electrical cable in m : 1,80
門市經營
BBE優質倉一直以價格及口碑為經營重心,一點一滴累積發展至現在於旺角、銅鑼灣及屯門均設有大型門市,以陳列室形式展示過千款歐美日家庭及廚房電器。每間店鋪亦有專業電器顧問隨時為你度身選擇最適合產品。
至抵價錢
BBE於全港No.1格價網「香港格價網」(price.com.hk) 中有近2萬次真實顧客光顧,亦是少數取得當中最高評級-「五星級商戶」的電器經銷商,保證緊貼市價,並為顧客爭取最佳價格,讓你無需再四處逐一格價。
安全購物
資料保安是我們最重視的一環。BBE全網站均採用SSL技術加密傳送內容,比一般網站更能保障隱私及安全性。而網上客戶付款時除及選擇傳統銀行轉帳外,亦可使用由PayPal提供的信用卡線上付款通道,確保一切資料安全。
網絡至強
連續3年榮獲香港討論區頒發,經全港網民提名及以一人一票方式選出的「網上電器銷售信譽大獎」。BBE亦同時榮獲煤氣公司TGC 爐具銷售金獎。此外BBE與香港多間公私營機構均有合作,無論線上線下均提供最佳服務。
安心購買
BBE為各大電器品牌之授權經銷商,部份型號更為全港獨家經銷。於BBE購買之所有電器均保證為香港行貨,可享有最少一年的原廠保養及7天有壞換貨保證,並提供送貨安裝服務。安裝服務詳情可參閱「安裝價目表」。